Holiday & Event Lighting in Dallas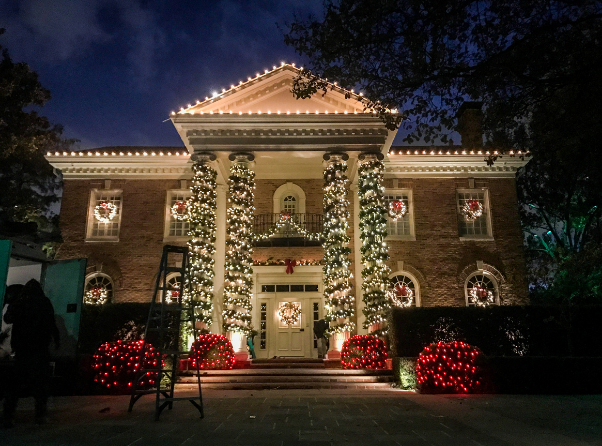 Create a magical holiday light display by working with Dallas Landscape lighting for Christmas light installation.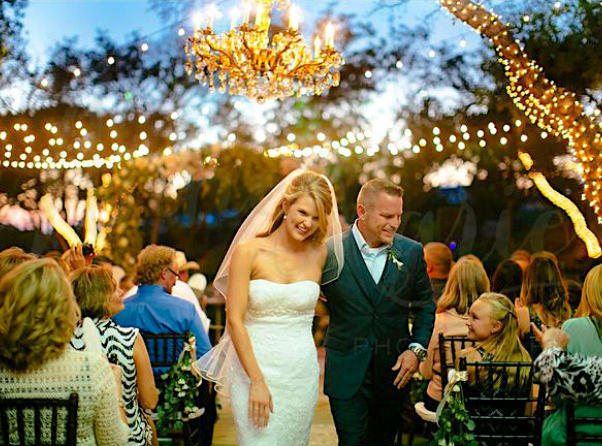 Party lights & string lights are a simple, yet STUNNING way to create a festive atmosphere for outdoor weddings, parties, and receptions.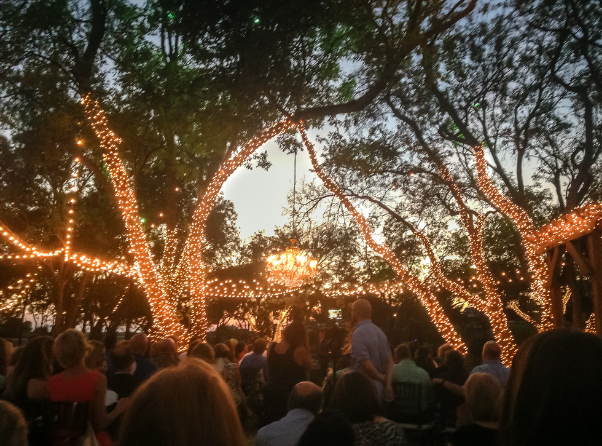 Dallas Landscape Lighting supplies & installs elegant string lighting for a festive look any time of the year!
Request A Free Consultation or Estimate Now!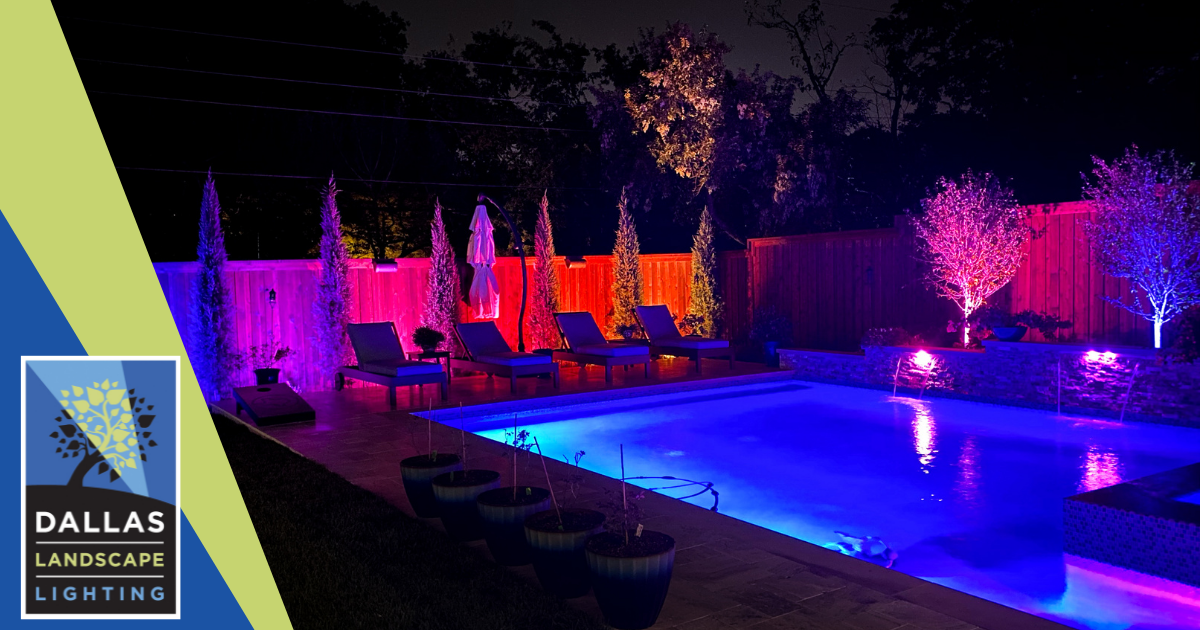 Dazzling light displays can enhance any outdoor space, so whether you're having a one-time event or you need holiday lighting that stays up throughout the holiday season, Dallas Landscape Lighting has you covered.
Setting the Tone With Event and Holiday Lighting
From backyard parties to full-scale community events, the right lighting can make or break your celebration – and that's where Dallas Landscape Lighting comes in.
Our team of professional electricians and tree-climbers have been installing event and holiday lighting for more than a decade, all over Dallas and beyond.
We'll talk to you about your vision and then bring it to life, whether you're looking for event lighting, Christmas light displays or light-wrapped trees that stay illuminated all year.
Event Lighting
Party lights are a simple, stunning way to create a festive atmosphere, and you can use them at weddings, receptions, charity events and parties.
These lights create the perfect ambient glow for any celebration – and the best part is that Dallas Landscape Lighting will handle event light installation and removal for you.
Your options are nearly limitless when it comes to outdoor event lighting. Our team can string lights over your swimming pool, drape them beneath a reception tent, hang them from trees or otherwise creatively illuminate your space.
Dallas Landscape Lighting will:
Provide all necessary lights, cords and other supplies
Maintain the lights if necessary
Remove them after your event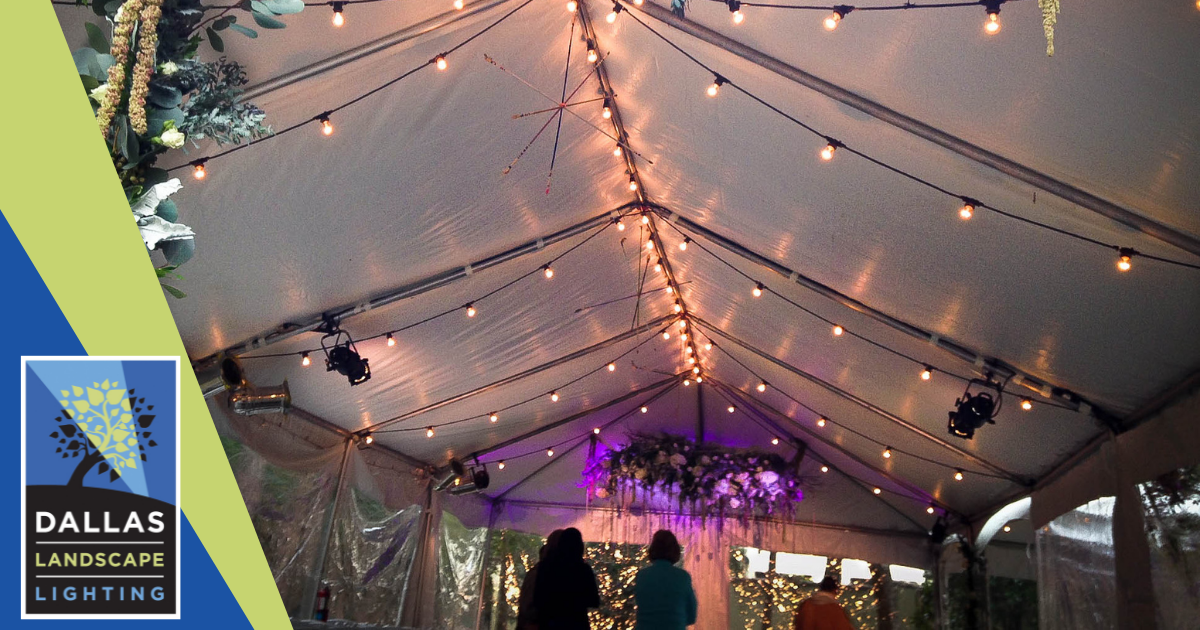 We use energy efficient lights and other premium products to ensure that your event is perfectly illuminated from start to finish.
Request A Free Consultation or Estimate Now!
Time, Cost and Installation Information for Event Lighting
The number of lights you need, the area you're lighting, and the size of your project determine how long it takes, what it costs and how our team goes about installing the lights.
The best way to figure out what resources you need for event lighting is to get a free consultation from the experts at Dallas Landscape Lighting.
We can evaluate your needs, create a plan and give you a customized quote when you're ready.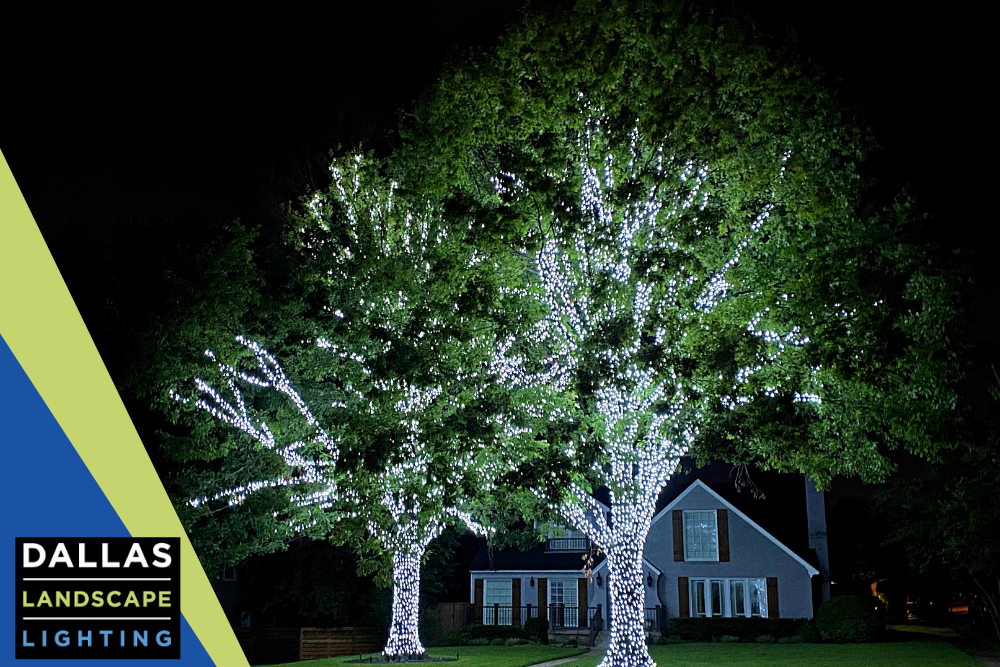 Christmas Lighting in and Around Dallas
Dallas Landscape Lighting can help you create a purely magical holiday light display in Dallas or one of the surrounding communities. Whether you're decorating your home or your business, we're sure we can make it the most spectacular one on the block. Our team specializes in installing Christmas and holiday lighting in these locations:
Homes
Condo complexes
Townhome developments
Community spaces (such as around common areas like swimming pools, clubhouses and play areas)
Shopping malls
Strip malls
Retail stores
Restaurants
Golf courses and country clubs
Office buildings
Building lobbies
Downtown areas
Town squares
All you have to do is share your vision with us. We'll handle the rest, from bringing all the necessary lights and supplies, installing on/off timers if you want to automate lighting, and remove them after the holiday season is over. We even provide light storage services if you need a place to keep those you own when they're not in use.
How Much Does Holiday Lighting Cost?
The cost for a holiday lighting project depends on several factors, including the number of lights we need to use to complete your vision, the way your installation is structured, and the size of the project. Our team can provide you with a custom quote for your Christmas and holiday light installation project – all we need you to do is tell us what you're looking for, and we'll handle the rest.
How Long Does it Take to Set Up a Christmas Light Display?
The size of your project will determine how long it takes to set up a dazzling, festive light display. Our team may be able to create a beautiful holiday light display in a matter of hours if you're in a residential home; a commercial business, community area or downtown area will take longer. We can give you an estimate of how long we anticipate your project to take when you call us.
Holiday Light Removal Included
Dallas Landscape Lighting is your one-stop shop for holiday light displays, whether you're illuminating your home or half the city. We'll provide all the supplies – including on/off timers, cords and energy efficient lights – that we're going to install. We'll also take the lights down after the holiday season is over. And if you're using your own lights, keep in mind that we also offer holiday light storage; that way, you don't have to worry about protecting your equipment for next year.
Wrapped Tree Lighting
Make your backyard your own personal paradise with wrapped tree lights. The experts at Dallas Landscape Lighting will supply and install string lights from trees or arbors any time of year. We also specialize in detailed tree trunk and branch wrapping, which means you can enhance your outdoor living space with lights year-round.
Our team also wraps trees in community spaces, whether it's for a special event or for all-year illumination. We can wrap the trees around your retail store, restaurant, community pool or clubhouse, golf course or anywhere else. We'll even maintain the lights as necessary. All you need to do is explain your vision and Dallas Landscape Lighting can make it a reality. When it's done right, wrapped tree lighting creates a stunning look that you – and your guests – will love.
How Much Does Wrapped Tree Lighting Cost?
Your cost for wrapped tree lighting depends on your needs. Many people choose to illuminate just a few trees, while others want a stunning display you can see from afar; still others want a combination of wrapped trees and string lights to brighten up their entire outdoor living space, and some want trees and patios lit at restaurants, retail stores and community locations. The number of lights we use, the way we structure your installation, and the size of your project will all play a role in your cost, so we'll be happy to give you a custom quote when you call to talk about your options.
How Long Does it Take to Wrap a Tree in Lights?
As with most custom projects, the size of the trees involved play a big role in how long it takes to complete your wrapped tree lighting. Our team of experts is careful to create the perfect look – one without unsightly gaps – and we make sure we get it right every time. When you call us to discuss your needs, we can tell you approximately how long it will take to complete your outdoor lighting project.
Do You Need Event or Holiday Lighting in Dallas County, Collin County or Rockwall County?
If you're looking for special event lighting or holiday light installation, Dallas Landscape Lighting can do all the heavy lifting for you. Tell us what you're looking for and we'll make it happen, from providing supplies and installation to maintenance and tear-down. We'll create a customized plan just for you to ensure you get the look you want.
Call our office today to learn more about your event and holiday lighting options. We'll be happy to provide you with a personalized quote now.
Book A Free Consultation!
Have questions about our Holiday & Event Lighting Installation? Contact Dallas Landscape Lighting today for a free consultation!