About Dallas Landscape Lighting
When you're looking at installing outdoor lighting or any other electrical service, choose the best outdoor lighting company in Dallas, Texas.
Dallas Landscape Lighting is a family-owned and operated business that has served the Dallas, Collin, and Rockwall Counties of North Texas since our establishment in 2000. In addition to outdoor lighting services for residential and commercial customers, we also offer Christmas or holiday lighting as well as installation of various electrical systems such as outdoor fans, speakers and water features.
Over the past 13 years, Dallas Landscape Lighting has served more than 10,000 customers, including individual homeowners, homeowner associations and businesses. Our team has worked hard to build a reputation for excellence, and it shows in our long list of satisfied customers.
Whether you need help with a small residential project or a large commercial job, we're here to serve you. Our goal is to provide exceptional service and top-quality products to each customer regardless of if they need a custom landscape lighting system designed and installed or just one breaker replaced.
Meet the Master Electrician and Owner
Jesse Maupin is the owner and operator of Dallas Landscape Lighting, Maupin Electrical Services (indoor electrical services) and Maupin Contracting Services, Inc. (general contracting). Jesse has a State Master Electrical License and State Electrical Contractors License and has been an electrician since 1995. He is a native Texan and currently resides with his family in the Rockwall, TX area.
In addition to Jesse's Master Electrical and Electrical Contractors Licenses, we are a proud member of AOLP (American Outdoor Lighting Professionals).
Dallas Landscape Lighting Services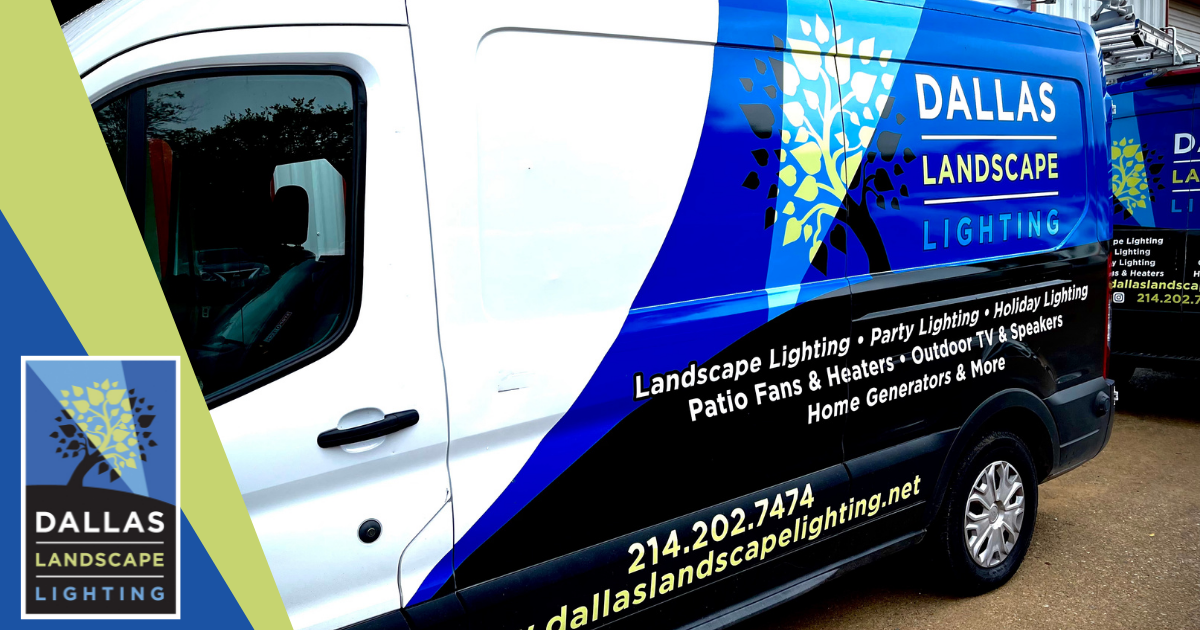 If you're looking for top-notch landscape lighting or other electrical services in Dallas, you've come to the right place. We offer a wide range of services to meet your needs and exceed your expectations.
From design and installation to maintenance and repair, we're here to help you create a beautiful, illuminated outdoor space that you can enjoy for years to come. Learn more about our extensive services!
Landscape Lighting Installation
Did you know that landscape lighting can dramatically enhance the look of your home?
A well-designed landscape lighting system can highlight your home's best features and create a warm and inviting ambiance.
If you're interested in installing a landscape lighting system, we can help. We specialize in design and installation, so you can be sure your new system will be installed correctly and look amazing.
Request A Free Consultation or Estimate Now!
Outdoor Fan Installation
The Texas heat shouldn't prevent you from enjoying your outdoor space. We offer various outdoor fans depending on the size of your space and your personal preferences.
Providing quality outdoor fan installation services is our top priority. We work hard to ensure that each and every customer is satisfied with our work. We know that having a functioning fan is important, especially during the hot summer months. That's why we offer prompt and professional service so that you can enjoy your fan for years to come.
Outdoor Heater Installation
Heating up your outdoor space has never been easier with our new outdoor heaters! They're perfect for chilly nights or a cozy morning. These heaters will make any patio or deck feel warm and inviting. Installation is quick and easy, so you can enjoy your heater in no time.
Learn More About Our Outdoor Heater Installation Services
Outdoor Speaker Installation
Whether you're looking to create an outdoor entertainment space or simply want to be able to enjoy your music while spending time in your backyard, installing outdoor speakers can be a great solution.
There are a few things to consider before installation, such as the type of speaker and the best location for placement. But with some planning and preparation, you can easily add these speakers and have them up and running in no time.
Learn More About Our Speaker Installation Services
Christmas Lighting Installation
Christmas is a time for family, friends, and decorating. Many people put up Christmas lights as part of their holiday decorations. If you don't have the time or energy to put up your own lights, we can do it for you. We'll provide all the lights, if necessary, install, and come back after the holidays to remove your lights for you. Our Christmas lighting installation is a fun and easy way to get into the holiday spirit without all the work.
Learn More About Christmas Lighting Installation
Party or Event Lighting
Deciding on the lighting for your party or event can be tricky. You want something that will create the right atmosphere, but you also don't want to break the bank.
However, with a little planning and creativity, you can find the perfect lighting solution for your event. Whether you're looking for something fun and festive or more subdued and elegant, there are plenty of options to choose from.
So take some time to browse our selection of party and event lighting. We're sure you'll find something that's just right for your event!
Home Generator Installation
Is your home prepared for a power outage? Texas energy providers aren't known for their reliability in times of crisis. A home generator can keep your lights on and your family comfortable even when the electricity is out. Let our experts help you choose and install the right generator for your home.
Home Security Installation
When it comes to keeping your home safe, there's no better defense than a good security system. And when it comes to security systems, we've got you covered. Our team of experts can design and install a custom security system that's tailored to your specific needs. So whether you're looking for a simple guard dog or a high-tech cameras and alarm system, we can help you find the perfect solution for your home.
Fire Pit Installation
Are you looking to add a touch of luxury to your backyard? Well, look no further than a fire pit installation! This will not only provide a beautiful and relaxing focal point for your yard, but it will also be a great gathering spot for family and friends.
General Contracting
When it comes to general contracting, you can count on us to get the job done right. We have a team of skilled professionals who are ready to tackle any repair, renovation, or construction project, big or small. Contact us today to get started.
Schedule a Free Outdoor Lighting Installation or Electrical Services Quote or Consultation
We provide free sales and installation quotes/estimates and design drafting. We want to help you in any way possible to get your project underway. Whether you need an estimate for budgeting purposes or want to see what your options are for designing, we can help.
Getting a quote from us is easy and obligation-free, so please don't hesitate to contact us. You can reach our friendly office staff during the week from 8:00 a.m. – 5:00 p.m. by calling 214-206-3893, by emailing us at info@dallaslandscapelighting.net or by filling out the form on our site.
Book A Free Consultation!
Dallas Landscape Lighting is your go-to electrician / electrical services company in Dallas! Request A Free Consultation today!