House Uplighting: Make Your Home More Beautiful & Safer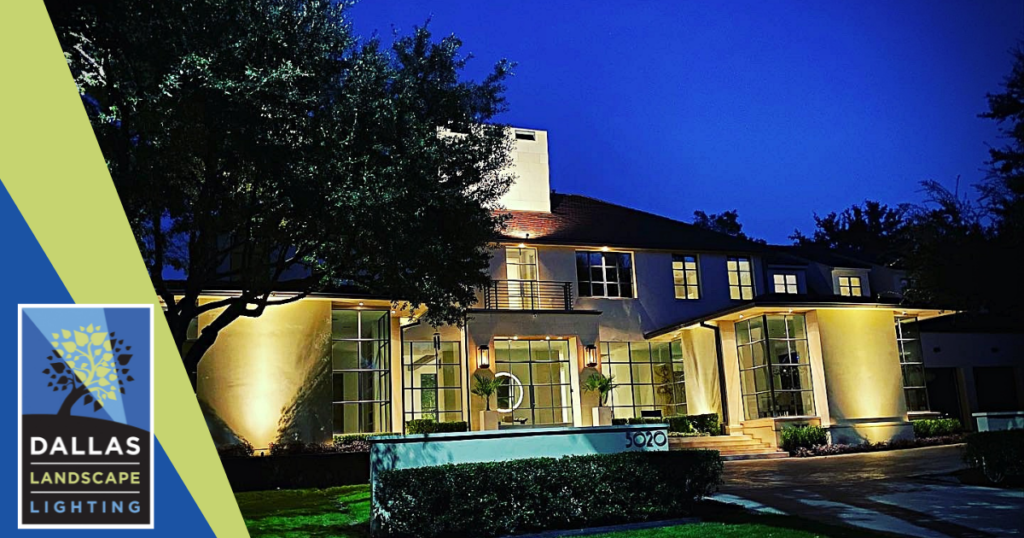 House uplighting is a lighting technique that you can use to enhance your homes appearance, increase visibility and create a welcoming ambiance — and Dallas Landscape Lighting can help.
What is House Uplighting?
House uplighting creates a sophisticated, upscale look, and many Dallas area homeowners use it to make their homes more beautiful and safer. Generally, it's used in residential settings to highlight architectural details, illuminate walkways and driveways, and add a layer of warmth.
When Dallas Landscape Lighting uplights a house, we place the lights on the ground. Often, lights are hidden in landscaping or mounted on walls. We angle them upward to create a soft, subtle glow that highlights the home's architecture and features. The result is a beautifully lit home exterior that you and your guests will find welcoming.
Why Should You Uplight Your House?
People choose to uplight their homes for many reasons, such as:
Safety and security
Curb appeal
Extension of outdoor living space
Here's a closer look at each.
Uplighting Your Home for Safety and Security
Many people choose to uplight the exterior of their homes because light traditionally improves safety and security. These lights can illuminate all of the areas around your home, including entryways, walkways and driveways. That makes it harder for prospective intruders to approach without someone seeing them. Also, lighting up your home makes your property more visible from the street and to your neighbors, which can help deter crime.
Uplighting Your Home to Increase Curb Appeal
It's no secret that a beautifully lit home looks great from the road. Many people choose uplighting to boost their curb appeal and make it more attractive to people passing by. This is particularly important if you're trying to sell your home, because these types of lights can highlight architectural details, textures and shapes. The right lighting can create a more dramatic and visually stunning effect that enhances your home's beauty.
Uplighting Your Home to Extend Your Outdoor Living Space
When you have the right lights installed outside your home, you can extend the use of your outdoor living space. In addition to illuminating more of your front and back yards, uplighting on your home can help create the right ambiance when you're entertaining outdoors. Many people find that these lights increase their enjoyment of their outdoor spaces well into the evening.
Request A Free Consultation or Estimate Now!
What Types of Lights Can You Use for Uplighting?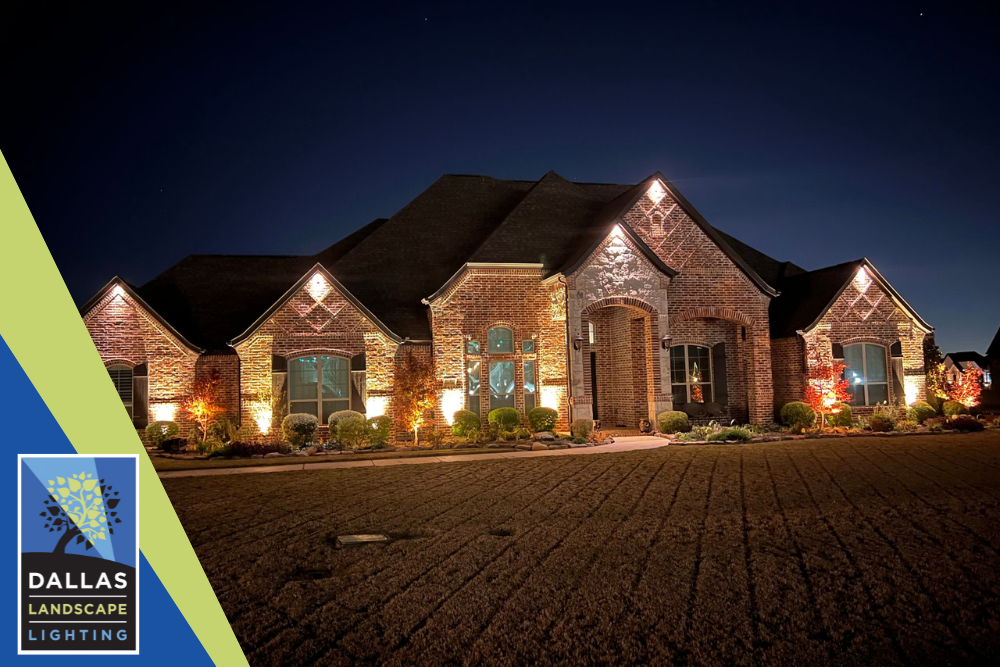 There are a wide variety of lights you can use for uplighting your home. At Dallas Landscape Lighting, our experts can help you choose the perfect type — but in the meantime, here's a quick overview of your options:
LED lights
Halogen lights
Incandescent lights
Solar-powered lights
RGB lights
The following sections explain each type in greater detail.
LED Lights for Uplighting Your Home
LED lights are among the most popular for homeowners, and for several reasons. These types of lights are extremely energy efficient, have a long lifespan and are very low maintenance. LED lights use up to 80% less energy than traditional lights do, and they can last up to 25 times longer.
But that's not all. LED lights give you a wide range of color options, and you can easily control them with a timer or smart home automation system. Even better, LED lights are cool to the touch, so they're often safer than other types of lights are.
Halogen Lights for Home Uplighting
Halogen lights are also very popular for uplighting. They create a warm, natural looking light; in fact, it's a little similar to sunlight. Halogen lights are generally considered affordable, and they're easy to install.
Halogen lights have a high color rendering index, which means they can render colors more accurately than other types of lights can. They are also dimmable, so you have control over the ambiance they create.
Incandescent Lights for House Uplighting
Incandescent lights are the traditional option. Before LED lights and halogen lights gained popularity, incandescent lights were the way to go. These types of lights offer warm, soft glows all around your home, which can create a cozy and welcoming atmosphere.
However, incandescent lights are less energy efficient and don't last as long as LED lights or halogen lights do. These lights can also produce heat, which increases the temperature of the area around each fixture, and they become hot to the touch.
Solar-Powered Lights for Uplighting a House
Solar powered lights have come a long way since they were invented. They're a very environmentally friendly option for uplighting because they don't require electricity. However, they're not as bright as other types of lights are. These lights don't require any wiring or electrical work, so they're ideal for nearly any location. Many people choose to use solar powered lights around walkways and driveways, rather than for uplighting purposes, but it is possible to uplight some homes using them. If this is something you're interested in, call the professionals at Dallas Landscape Lighting today to discuss your options.
RGB Lights for Home Uplighting
RGB lights are types of LEDs, and they can change color and intensity. You can also control them with a number of effects, including fading, flashing and strobing. Many homeowners choose to install RGB lights so that they can change the color around certain holidays such as orange on Halloween or red and green in December.
Can Uplighting Raise Your Home's Resale Value?
Uplighting may raise your home's resale value because it enhances curb appeal. When prospective buyers get their first impression of your home's exterior, you can really "wow" them with lighting that highlights your home's architectural features and creates a dramatic effect that makes it stand out from other nearby homes. A recent study by the National Association of Home Builders says that exterior lighting is one of the top five most-wanted outdoor features.
What Other Types of Services Go With House Uplighting?
Many people choose to illuminate their entire outdoor living spaces. We can create a unique outdoor lighting plan created just for your home and your budget. Dallas Landscape Lighting offers the following services (and more):
Do You Need to Talk to the Dallas Home Uplighting Experts?
If you're thinking about uplighting your home, Dallas Landscape Lighting is here to help. Call our office or get in touch with us online to schedule a consultation with home uplighting experts who can help you plan the perfect layout, look and style. We'll be happy to provide you with a free, no-obligation quote on your home uplighting, so call us today.