Plano Electrician – Landscape Lighting in Plano, TX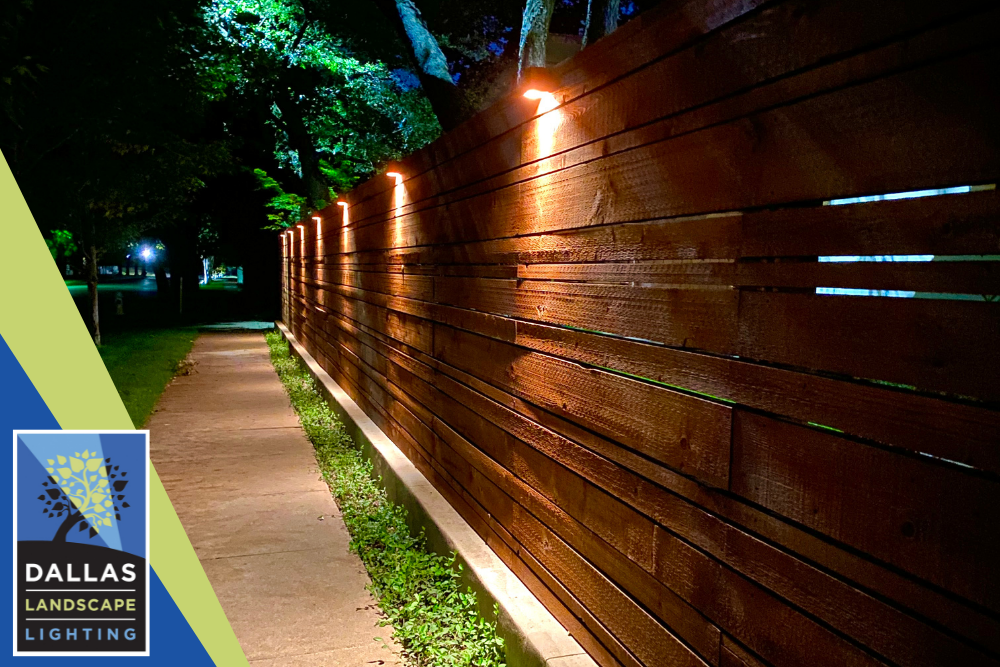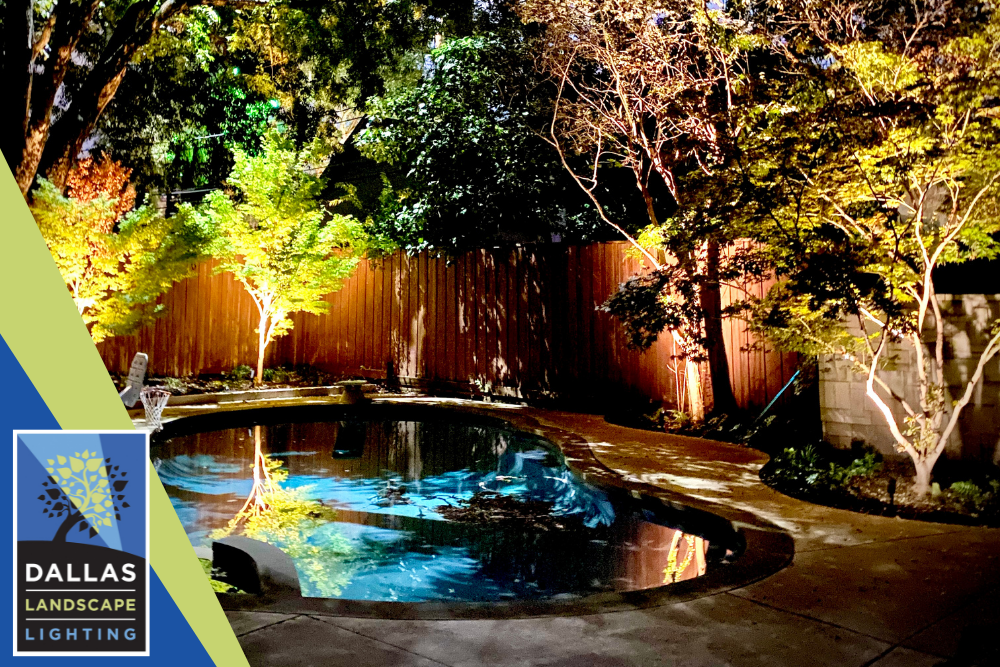 Whether you need a Plano electrician to handle your landscape lighting, rewire your home or anything else, Dallas Landscape Lighting has you covered. Our team, led by a master electrician, can tackle any residential or commercial job and provide you with results.
Services by a Plano Electrician You Can Trust
Dallas Landscape Lighting is your one-stop shop for indoor and outdoor electrical work. Whether you need help restoring a historic building or bringing it up to code, installing party lights for a wedding or making repairs so you can sell your house, our team of experts is here for you.
Check out some of the services we provide here – and if you don't see what you're looking for, give us a call. There's a good chance that we can help.
Code violation repairs
Home sale inspection repairs
Rewiring for new lights, including chandeliers, as well as fans
Installation of new electrical circuits on commercial machinery
Standard electrical system maintenance
Wiring for pools and spas
Holiday and Party Light Installation in Plano
Whether you're outfitting your home or business for the holidays or you're setting up for a special event such as a wedding, Dallas Landscape Lighting can do everything you need. 
Our team specializes in setting up stunning holiday light displays in Plano and the surrounding communities; in fact, we'll plan the setup, provide all necessary lights and supplies, and even install on-off timers if you'd like. We'll maintain your lights as necessary, and then remove them after the holiday season so you don't have to worry about a thing.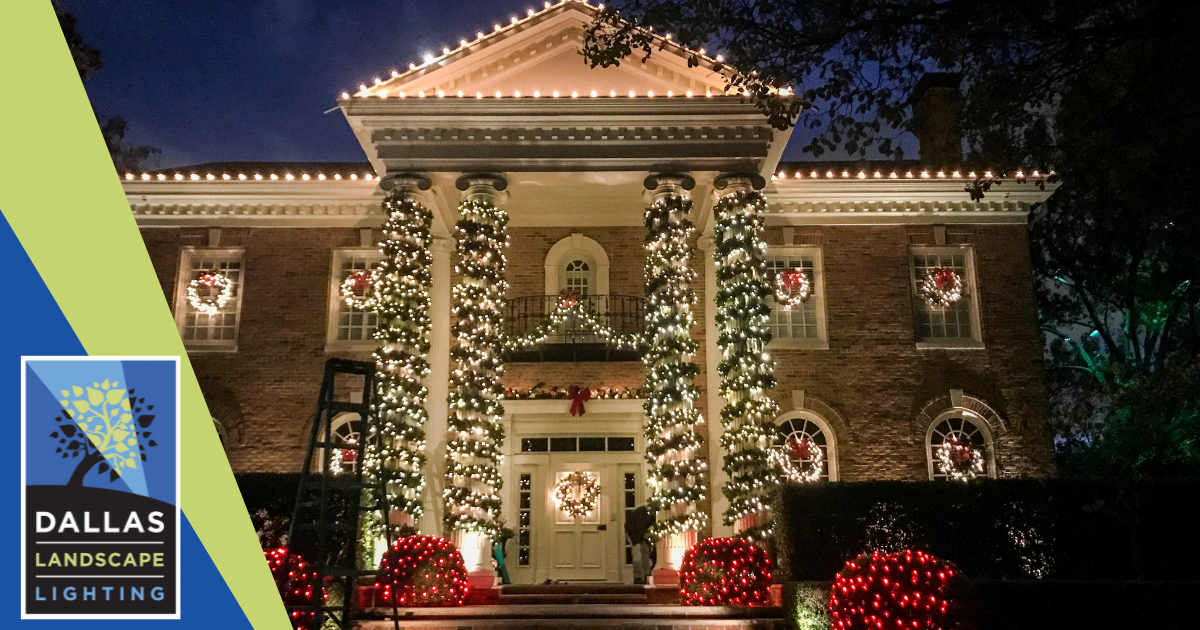 Our team also specializes in setting up party lights and special event lighting. We can provide you with the perfect party lights for your event, whether it's a wedding, fundraiser or charity event, or something else. We even offer string light tree wrapping services that help you create a magical environment.
Request A Free Consultation or Estimate Now!
Electrical Code Violation Repairs
Dallas Landscape Lighting is led by a master electrician who can make electrical code violation repairs in your home or business. Our team of experts is very familiar with the National Electric Code and will keep you, your family or your employees safe by ensuring that your space is in compliance with local, state and federal regulations.
Electrical Wiring for Appliances, Kitchens, TVs and Speakers
Spruce up your outdoor living space by having Dallas Landscape Lighting wire it for outdoor appliances (including kitchen appliances), TVs and speakers. Our team can connect your outdoor living space to the grid and to a home generator so you can get the most from it. We'll even help plan the right locations for appliances and ensure that you have all the juice you need to keep things running smoothly. Whether you're building from scratch or improving your existing space, our team has you covered.
Home Sale Inspection Repairs in Plano
Selling your home may mean making repairs after an inspection. If your buyer's home inspector discovers issues with your home's electrical system, we can make repairs for you. Even better, we'll provide you with a detailed description of all the work we perform so you can pass it along to your buyer and keep your transaction on track.
Plano Generator Installation
Residential generators are growing in popularity, and it seems that everyone has one – but if you're behind the curve, don't worry. Our team can help you find the right standby generator, portable generator or inverter generator for your space. Then, we'll perform our full suite of home generator installation services and get your house wired quickly so you're prepared for the next power outage.
Landscape Lighting for Aesthetics
Your outdoor living space needs good lighting to look its best, and that's where Dallas Landscape Lighting comes in. Our team specializes in planning, developing and installing outdoor lighting systems in Plano. We can highlight your home's best features, provide path lighting and create the perfect environment around your space. We also focus on moon lighting and tree lighting, as well as outdoor patio and arbor lighting.
Emergency Lights, Flood Lights and Security Features
Keeping your home or business safe is your top priority, and we make it ours, too. Our team of experts can help you plan the perfect emergency light and flood light system that deters crime and keeps your property safe. From tree lights to deter criminals to path lighting to keep you and your guests safe, we can help.
Our team can also provide you with user-friendly HD security cameras, surveillance and home automation systems to give you the peace of mind you need. We're Control4 certified, which means we can help coordinate technology into your home or business.
Finally, our team specializes in providing emergency and flood lights, as well as security systems featuring cameras, to commercial businesses in Plano. We'll work with your security team to develop and implement a safety lighting plan that keeps your workers, your inventory and your building safe.
Rewiring for New Lights
When you remodel your space, whether it's your home or business, you may need to revamp the existing wiring system to install new lighting. Our team will evaluate your entire system and plan a new one around your goals, whether you'll be installing LED light fixtures, ceiling fans or a combination of lights and fans. We can do this in your residential space, your restaurant, your office building or factory, or even your retail store – our team can handle it all.
Installation of New Electrical Circuits on Commercial Machinery
When you need your business to keep running smoothly, you can't afford bad circuitry – and that's where we come in. Our team, headed by a master electrician, is well-versed in replacing electrical circuits in commercial machinery. We'll evaluate your issues, perform maintenance as necessary, and make all the repairs you need to keep your business humming along.
Standard Electrical System Maintenance
As professional electricians, we're qualified to keep all kinds of electrical systems working. We'll inspect and repair your current system, and if it's time to replace certain components or revamp the entire thing, we have you covered.
Historic Building Wiring in Plano
Old electrical systems can fail, and those failures can be catastrophic. Dallas Landscape Lighting specializes in upgrading, maintaining and replacing electrical wiring in historic buildings all over Plano and the surrounding communities. We can create a plan to preserve original light fixtures and improve safety in your historic building, whether you live there, operate it as a museum, or simply want to protect it and keep it up to code.
Do You Need a Plano Electrician?
If you need a Plano electrician for a holiday or event lighting, historic building wiring restoration or upkeep, or any other wiring-related job, our team is here for you. Call our office today to schedule a consultation with an expert who can help you plan and implement your vision – we handle all kinds of jobs, large and small, and we look forward to working with you.
Proudly serving the following zip codes and neighborhoods in Plano and surrounding cities:
Zip Codes:
75023, 75024, 75025, 75026, 75074, 75075, 75086, 75093, and 75094
Surrounding Cities:
Avignon, Cypress Point, Gleneagles, Kings Gate, Kings Ridge, Hills of Prestonwood, Willow Bend, White Rock Creek Estates, Shoal Creek, etc.
Things To Do In Plano
Book A Free Consultation!
Dallas Landscape Lighting is your go-to lighting company in University Park! Request A Free Consultation today!