Moonlighting & Tree Lighting Installation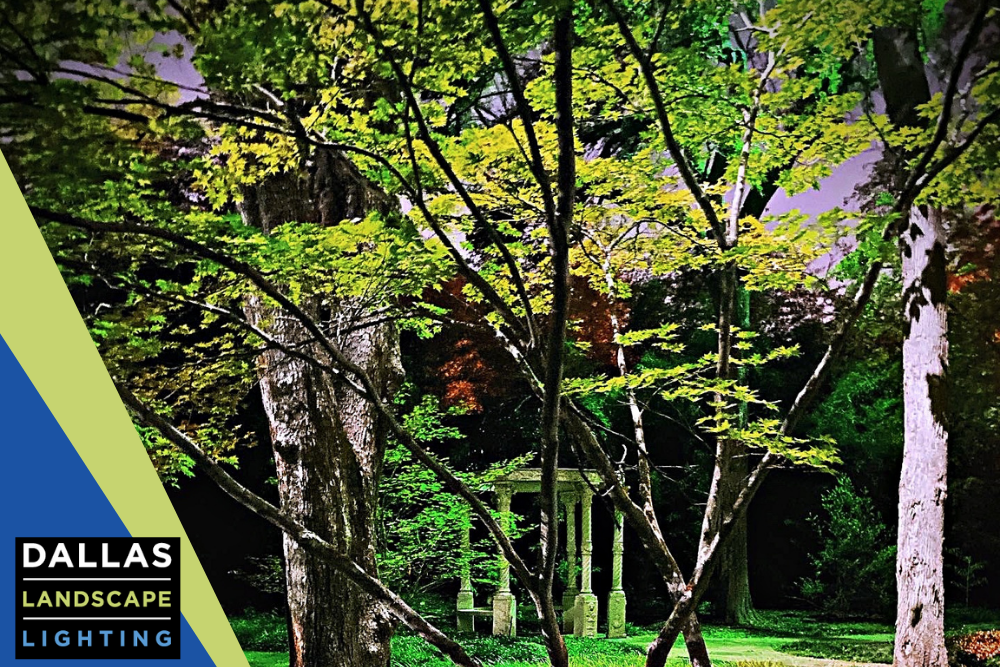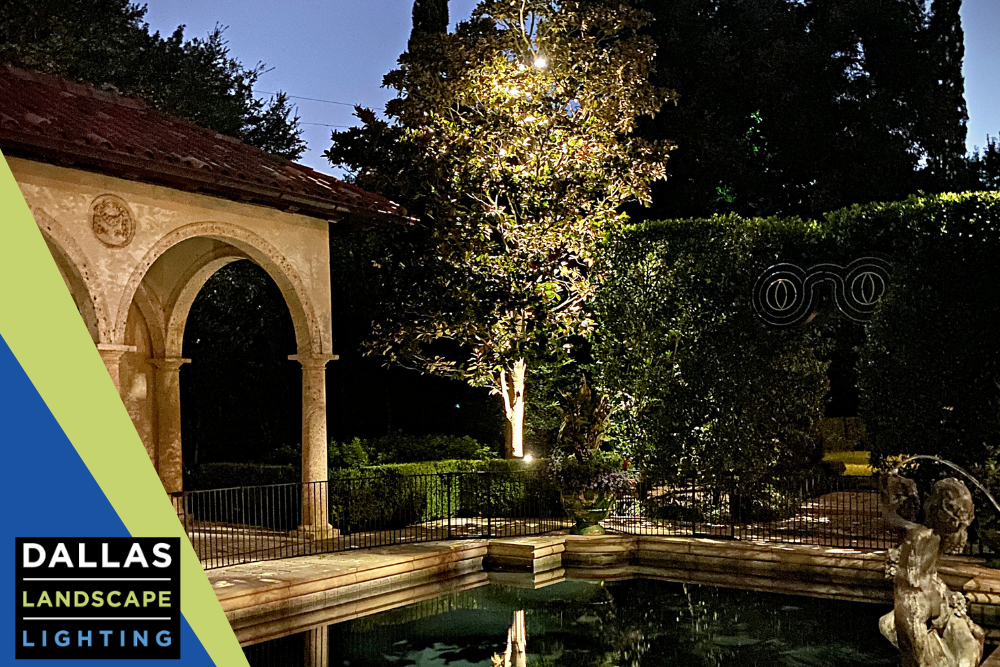 Moonlighting and tree lighting are two of the most popular ways to transform an outdoor space – and both can give you breathtaking results. Dallas Landscape Lighting is your one-stop shop for all outdoor lighting. Our team has decades of combined experience, and we can bring your vision to life.
Moonlighting and Tree Lighting in Dallas
Create a spectacular outdoor living space or decorate for special events (such as weddings, graduation parties and other celebrations) with moonlighting or tree lighting by the renowned experts at Dallas Landscape Lighting.
Moonlighting: The Basics
Moonlighting your space means adding specially designed lights that give off a soft glow. Generally, we place these lights high in the trees in your outdoor space; alternatively, we can place them high on structures. The idea is to create a soft, silvery glow that resembles natural moonlight.
Going for a Natural Look With Moonlighting
Moon-lighting is a great way to add a natural look to your space. However, it takes special planning to create just the right ambiance. The lights should be layered, crossing each other's paths just like natural nighttime light does when it comes from the moon and stars. That way, it looks more realistic – and it won't look like harsh overhead lighting.
What Kind of Lights Do You Use for Moonlighting?
LED lights are best for creating the perfect effect. That's because with LEDs, you can choose just the right color temperature. They're also more energy efficient and run cooler than conventional light bulbs do, which means they'll save you some cash while making your space a bit safer.
Is Moonlighting Good for Security?
Many people find that moonlighting is good for security because it illuminates a large space from high up. You won't have to worry about separate home security lights, and your lighting won't bother neighbors. When moonlighting is done properly, it can illuminate your entire space. Though moonlighting isn't primarily used for security purposes, the fact that you can cast so much light makes it an attractive way to provide a little boost of security for your space.
How Does Moonlighting Work?
Moonlighting uses a technique called downlighting, which provides a good, widespread source of illumination. In its most simple form, downlighting uses lamps that are angled down, toward the ground, rather than up (like many standard landscape lighting projects have). The result is a nice, natural appearance because the lamps mimic natural outdoor light.
The key to good moonlighting is to conceal the light sources. Ideally, you'll have lamps in tall trees or under hardscaping; that way, all your guests will see is the resulting light – not the fixture itself.
Request A Free Consultation or Estimate Now!
Can You Install Landscape Lighting on Hardscaping?
The term hardscape refers to the non-living elements used in your landscaping. You can install landscape lighting on hardscape elements such as patios, stone walls, wooden arbors, gazebos and more. It's possible to create a moonlighting look or an uplighting look on these elements – or a combination of the two.
Dallas Landscape Lighting evaluates your entire landscape to determine the best places for lights to create the ideal aesthetic. Our team will talk to you about your vision and develop a plan to create a look you – and your guests – will love.
Learn more about hardscaping here.
What if You Don't Have Many Trees?
It's okay if you don't have many trees. Dallas Landscape Lighting can still create a wonderful ambiance in your backyard space. Whether we install lighting on hardscaping elements, along your fence or around your house, we'll be able to put together a plan that makes your outdoor living space a wonderful place to spend time. And don't worry – if you start planting trees in your space now, we'll still be here working on your friends' and neighbors' landscape lighting by the time they're big enough to illuminate.
Uplighting Basics
The tree lighting technique of uplighting can create a breathtaking look in any space. Using lights pointed upward, toward boughs and leaves, you can transform any tree into a stunning focal point.
Uplighting is an art – not just anyone can do it. Because all trees are different and feature distinctive shapes, and because a tree's location within its surrounding landscape plays an important role in which lights to use, the angles of the lights and even the color temperature of the lights, it's important that you work with the professionals at Dallas Landscape Lighting to get it right.
The general guidelines that our team follows are:
Small trees are generally better illuminated with a small accent light pointed toward the primary viewing angle. Often, the best way to uplight a small tree is to focus the illumination on the canopy.
Medium trees can benefit from cross-lighting. Ideally, you can use a pair (or more) of accent lights to illuminate the tree's canopy. You want to aim the light at the tree's primary viewing angle.
Large trees (those measuring 60 to 100 feet in height) generally need a nice combination of accent lights. The lights should all be angled differently, depending on the tree's shape, its canopy's fullness, and more.
The Dallas Landscape Lighting team generally talks to property owners about their visions before helping select the right types of lights. Once we know what you're looking for, we can develop a plan that helps create just the right look.
Blending Moonlighting and Uplighting
Moonlighting and uplighting together, in the same tree, can create stunning results. In addition to a soft, silvery glow that resembles moonlight, you'll enjoy breathtaking views of the trees illuminated in ways that you just don't see during daylight hours.
Why Choose Dallas Landscape Lighting?
Dallas Landscape Lighting is the premier company to work with for all your landscape lighting needs. Our team of professionals handles a wide range of outdoor lighting projects, including:
Our team is headed by a master electrician, too, which means if you need wiring leading outdoors, we can make it happen. We also provide a full suite of electrical services, ranging from indoor lighting installation and fan installation to outdoor speakers, heaters and fan installation. We also work with home generators so you can have a backup plan when the power goes out, and we can install a fire pit in your backyard so you can enjoy your outdoor living space even more.
A Word on Dallas Landscape Lighting
For all things moonlighting and tree lighting, Dallas Landscape Lighting is your go-to professional lighting installation service. In the world of outdoor lighting, it doesn't get more dramatic than tree lighting, which is one of the most popular and versatile options. Uplighting and downlighting are tree lighting methods that, if done professionally, can achieve stunning results.
Whether it's moonlighting (down-lights mounted up in trees shining down on the ground below) or uplighting highlighting a beautiful tree trunk and its canopy of leaves overhead… Tree lighting is TRANSFORMATIVE.
The moonlighting effect is truly exquisite – imagine a moonlit glow every night, complete with shadows of leaves and branches as they sway in the breeze.
We'd love to hear about your vision for your outdoor space, whether you want to outfit your backyard for entertaining or you're setting up a patio at a restaurant or other commercial facility.
Our team can evaluate your outdoor space, look at all your trees and hardscaping, and create a plan to bring your vision to life. We'll help you choose the right lighting elements, talk to you about electrical wiring (if it's necessary) and give you a detailed estimate to complete your project.
Do You Need to Talk to the Experts About Moonlighting and Uplighting?
Our team will be happy to answer your questions, talk to you about your options, and provide you with a free, no-obligation quote.