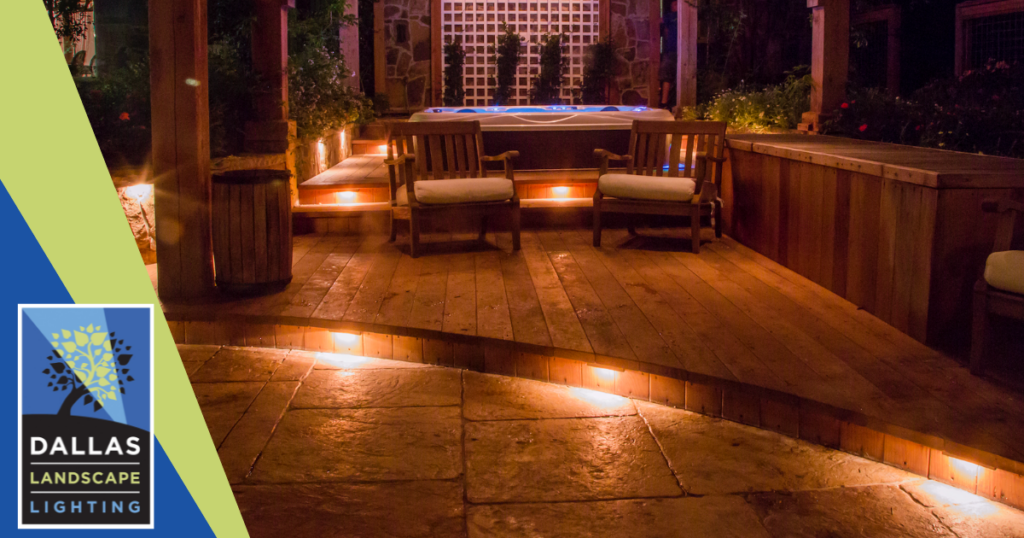 When you're lighting your outdoor living space, deck lighting is probably at the top of your list – and fortunately, Dallas Landscape Lighting has you covered.
What is Deck Lighting?
Deck lighting is a great way to add safety and aesthetics to your outdoor living space. Lighting up the area on and around your deck gives you a better view of it at night, and it allows for more enjoyable experiences after the sun dips below the horizon.
At Dallas Landscape Lighting, we offer several different types of deck lighting options that can help you create the perfect look for your space.
Why Do You Need Deck Lighting?
Deck lighting adds an extra layer of safety, security, and beauty to your outdoor living space. It can also increase the value of your home or business. With Dallas Landscape Lighting's wide selection of energy-efficient fixtures and our team of experienced technicians, you can be sure that your deck lighting will be installed properly and look great for years to come.
Whether you already have a vision in mind, or you'd like our help creating one, Dallas Landscape Lighting can provide you with the perfect deck lighting solution.
Security and Safety Lighting
Safety and security is paramount when it comes to outdoor deck lighting. We offer lights that can be placed along the perimeter of your patio, illuminated steps and walkways, and even motion-sensor light fixtures. These types of lights will help keep your family safe and may act as a deterrent for any unwelcome visitors.
Mood Lighting
We also offer lights that can be used to create a warm, inviting atmosphere. Whether you want subtle lighting to set the mood or bright lights to make your outdoor living space feel like an extension of your home, we have it all. Our selection of deck lighting fixtures come in a variety of styles and colors to choose from.
LED Lighting for Your Deck
Our LED deck lighting fixtures are perfect if you're looking to add a modern look – and energy efficiency – to your outdoor living area. These lights use less energy than traditional bulbs, making them an eco-friendly choice while providing brighter and more consistent lighting.
Pool Deck Lighting Systems
For those who have a pool in their outdoor living area, we also offer deck lighting systems that will provide excellent illumination for your swimming area. These lights can be used to mark steps and other safety hazards around the pool while providing stunning visual effects. The right lighting can enhance your outdoor experience and extend the hours you can safely and reasonably use your swimming pool, too.
Request A Free Consultation or Estimate Now!
Patio and Arbor Lighting: Similar to Deck Lighting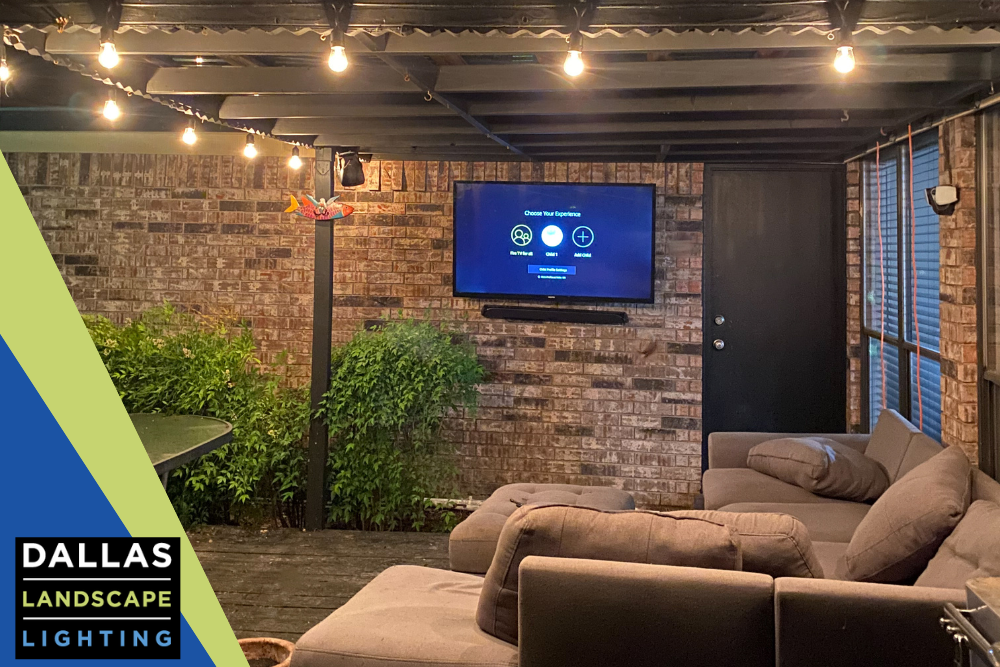 Dallas Landscape Lighting provides a wide variety of outdoor structure and arbor lighting solutions for your Dallas-area home or business. Whether you're looking to add an inviting, cozy atmosphere to your outdoor living space, illuminate pathways and walkways for safety and security, or light up the area around your pool for evening swims and pool parties, we have the perfect lighting solution for you.
Contact us to find out more about our deck lighting services and how we can help you create the perfect outdoor living space. Our knowledgeable staff is standing by ready to assist with all your Dallas-area landscape lighting needs.
Commercial Deck Lighting Services
If your business has a deck, as is common with many local restaurants, you need the right lighting. Dallas Landscape Lighting can help you pick the perfect lighting for your business' deck and install it for you. We offer installation services, upgrades, and repairs – so no matter what you need, we've got you covered.
Types of Deck Lighting
When it comes to deck lighting, there are countless options available. The most popular options include string lights, post lights, hanging lanterns or wall sconces, and recessed lighting. Each type of light provides different levels of ambient light, so consider how much light you want before making a decision.
String lights are one of the most popular options because they provide a soft glow that's perfect for nighttime entertaining. Post lights and lanterns provide more direct illumination and are usually used near steps or seating areas where you need additional brightness. Recessed lighting is more subtle but offers more flexibility since it can be installed in any area that has access to power.
How to Choose the Right Deck Lighting
Choosing the right deck lighting for your outdoor living space is an important decision. You'll want to consider factors such as safety, aesthetics, and energy efficiency when selecting the right lights. At Dallas Landscape Lighting, our knowledgeable staff can help you make the perfect selection while staying within your budget.
Follow these tips to help you choose the perfect deck lighting:
Consider safety when selecting the right lights.
Think about aesthetics and how to create an inviting atmosphere with your deck lighting.
Look for energy efficient fixtures that won't take up too much of your electricity bill.
Choose a variety of styles and colors to enhance the look of your outdoor living space.
Invest in motion-sensor lights if you wish to deter any unwelcome visitors.
Make sure you select lighting fixtures that are safe around water, such as pool deck lighting systems.
Consider maintenance with different light types.
Talk to knowledgeable staff at Dallas Landscape Lighting who can assist you with all types of landscape lighting needs.
You Don't Need a Deck Lighting Plan; We Can Develop One for You
If you don't have a deck lighting plan, we can help you develop one. Our team of experts will help you select the perfect fixtures, then we'll plan and arrange them to create the desired effect. We'll also provide expert installation services so that your new lighting is properly installed.
Deck Lighting Installation Process
The installation process for each type of light varies slightly. String lights can typically be installed without any wiring or drilling; we'll simply hang them up using hooks or clips along the edges of your decking boards as long as you have outdoor power already wired nearby.
 If you opt for post lights or lanterns, these will require a little bit more work as they must be securely mounted to posts or walls with special hardware that is designed to withstand weather conditions.
At Dallas Landscape Lighting, we understand that each homeowner has unique needs when it comes to their outdoor lighting needs. That's why we offer personalized services tailored to each customer's individual requirements. Our experienced professionals will come to your home to assess the property and take measurements before recommending specific products for installation.
Our team also makes sure that all work is done on time and within budget so there are no surprises down the line. With our experience and expertise, you can rest assured knowing that your deck lighting installation project will be completed correctly and efficiently every time! 
Contact Dallas Landscape Lighting About Your Outdoor Deck Lighting Project Today
If you're ready to upgrade your outdoor living space with deck lighting, contact Dallas Landscape Lighting today. Our team is led by a master electrician, and our knowledgeable and friendly staff can help you make the perfect selection while staying within your budget. Let us be part of your next outdoor project.