Indoor Lighting Installation – Ceiling Lights and More
Interior lighting installation is important – not only does it affect a space's ambiance, but it can help increase energy efficiency in your home. When you need indoor lighting installation, Dallas Landscape Lighting is the team to call.
Indoor Lighting Installation by Dallas Landscape Lighting
Choosing the right type of indoor lighting is imperative in creating a space you'll love. In addition to finding the perfect fixtures, our team at Dallas Landscape Lighting can wire everything. Whether you want to customize a specific room's look, increase your home's energy efficiency, update the wiring or start a whole new project, we're here for you.
Interior Lighting Installation: Home Indoor Lighting Tailored to Your Needs
Dallas Landscape Lighting can handle any job, including:
Recessed lighting. Brighten any space with recessed lighting, which we install in the hollow openings in your ceiling.
Pendant lights. Hanging pendant lighting adds an air of luxurious elegance to any space, and our team is extremely experienced with these types of lights.
Chandeliers. Whether you're putting a chandelier in your foyer, dining room or a grand ballroom, Dallas Landscape Lighting has you covered. We'll ensure your space is properly wired and that your chandelier is properly supported so you can create a stunning look in any room.
Media room lighting. Creating the perfect balance of lighting in your media room is a job best left to the experts at Dallas Landscape Lighting. Our team will work with you to develop a plan that gives you the right lighting for a variety of activities, from watching movies with the lights dimmed to playing games or working on projects.
Home office lighting. Our experts know that your home office needs just the right lighting so you can be productive and comfortable, so we'll work with you to develop a plan that meets your needs. Whether you're illuminating library shelving, installing overhead lighting and task lighting, or coming up with a custom solution, we're here to make it happen.
Kitchen, dining room and living room lighting. Illuminate your living space with help from Dallas Landscape Lighting. Our team can work with your existing wiring or install all new wiring – our team leader is a certified master electrician – so you can relax, go about your daily business and entertain with the right lighting.
Hall lights, stair lighting and closet lighting. Make sure all your pathways and storage areas are illuminated properly by installing interior lights in the halls, on stairs and in your closets. If you don't have existing wiring for what you need, that's okay; our team at Dallas Landscape Lighting has you covered.
Art lighting and collection lighting. Light up your art or collectibles with just the right fixtures. Whether you need focused, on-point lights or general illumination, we can design a plan that helps you get the most out of anything you have on display.
Ceiling fans with lights. You can enhance your living room, enclosed porch, bedroom or any other space with a lighted ceiling fan. Our team will help you choose the right fixture, and if necessary, install the wiring to support it.
Wiring for Interior Lighting Installation
Dallas Landscape Lighting provides the full suite of home electrical work. Headed by a master electrician, our team excels at all kinds of wiring, including wiring for:
Arbor and patio lighting
Breakers and fuses
Electrical ballast replacement
Electrical code corrections
Electrical rewiring
Exhaust fans
New fixtures and fans
Outdoor kitchens
Outlets and GFCIs
Panel change-outs
Repair and installation of electrical circuits
Surge protection
Switches
Troubleshooting
We can work on all your electrical wiring projects – not just interior lighting installation. Our team will help map out the appropriate pathways and create a system that works for you, and it'll be up to code and safe to use.
Request A Free Consultation or Estimate Now!
How Much Does it Cost to Install Ceiling Lights?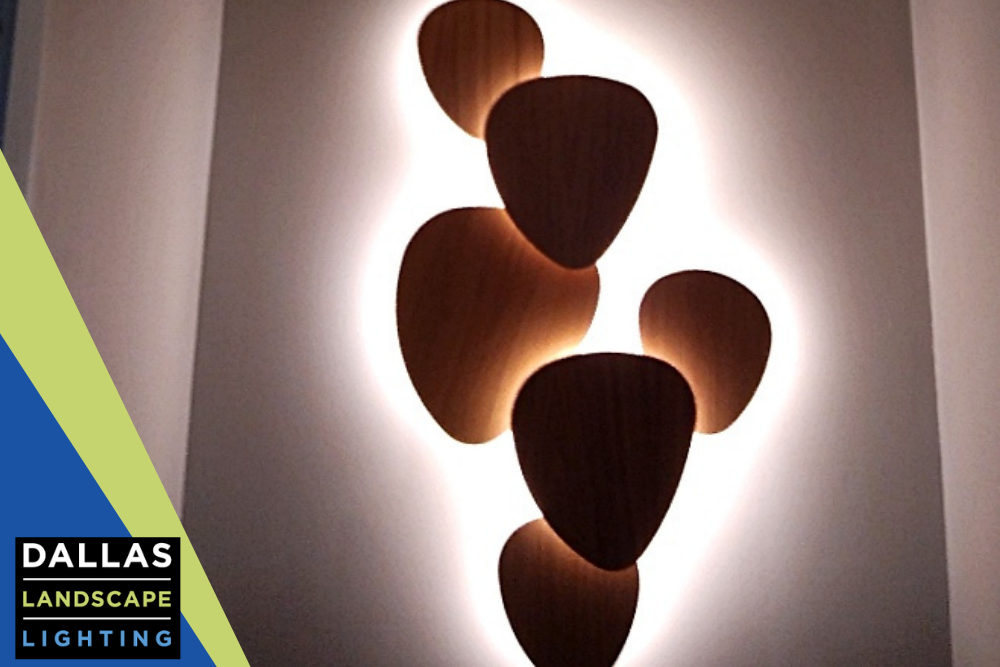 The cost to install ceiling lights depends on several factors. The materials and fixtures you choose will determine your final cost. So will the extent of the electrical wiring work necessary to complete your project. 
If you want specialty products, such as high-end LED lights, dimmer switches or timers, or smart technology, you'll end up paying based on those costs, as well. Finally, the amount of time it takes to complete your project will affect your cost.
For example, wiring a small closet addition will cost far less than rewiring your entire home and installing new light fixtures throughout.
The best way to figure out how much it will cost you to install ceiling lights is to contact our office for a free, no-obligation quote today. Tell us what you envision, and we'll talk to you about your options. Then, we'll provide you with an estimate based on the information you've given us.
How Much Does it Cost to Install New Light Fixtures?
Your cost to install new light fixtures depends on the number of fixtures you need, as well as the size, shape and style of those fixtures. More fixtures translate into more labor time, so your cost will increase if you need to install more than one. If you need electrical wiring services, your cost will also increase. The simplest, most straightforward jobs cost less than complex jobs.
Why Choose LED Indoor Lighting?
LED lighting is far more energy efficient and cost-effective than traditional incandescent lighting is. The best part is that most homes don't need to be re-wired to handle LED lighting; in fact, unless your wiring is outdated or out of code, you probably only need to switch out your bulbs (unless your current fixtures won't support the bulbs you want to use).
LED lighting comes in a huge range of styles, and there are even smart bulbs that change color or dim based on your input. LEDs generally do a better job of mimicking natural light than other types of bulbs do, too, which can make your home a more relaxed, soothing environment. You can choose LEDs for recessed lighting, pendant lighting, chandeliers and even light strips that you can place nearly anywhere; they don't give off any heat, and they typically last longer than traditional lights do, too.
Do You Need New Wiring?
In most cases you don't need new wiring to install new interior lights. However, if you want to install lights in a new location, you want a different type of lighting, you're building an addition or new construction, or your wiring is dangerous or out of compliance with electrical codes, you may need new wiring. Our team can let you know whether you'll need new wiring to complete your project. If you do, we'll be happy to provide you with a customized quote so you know how much your project will cost.
Do You Need Indoor Lighting Installation Services?
If you need indoor lighting installation services, with or without electrical wiring, Dallas Landscape Lighting is your one-stop shop. Our team of experts, led by a master electrician, can help you develop a plan to create the perfect indoor lighting system in any space. Call our office today to schedule your complimentary consultation with our experts.
Book A Free Consultation!
If you have any questions about indoor light installation, contact Dallas Landscape Lighting for a Free Consultation today!