Indoor & Outdoor Fan Installation in Dallas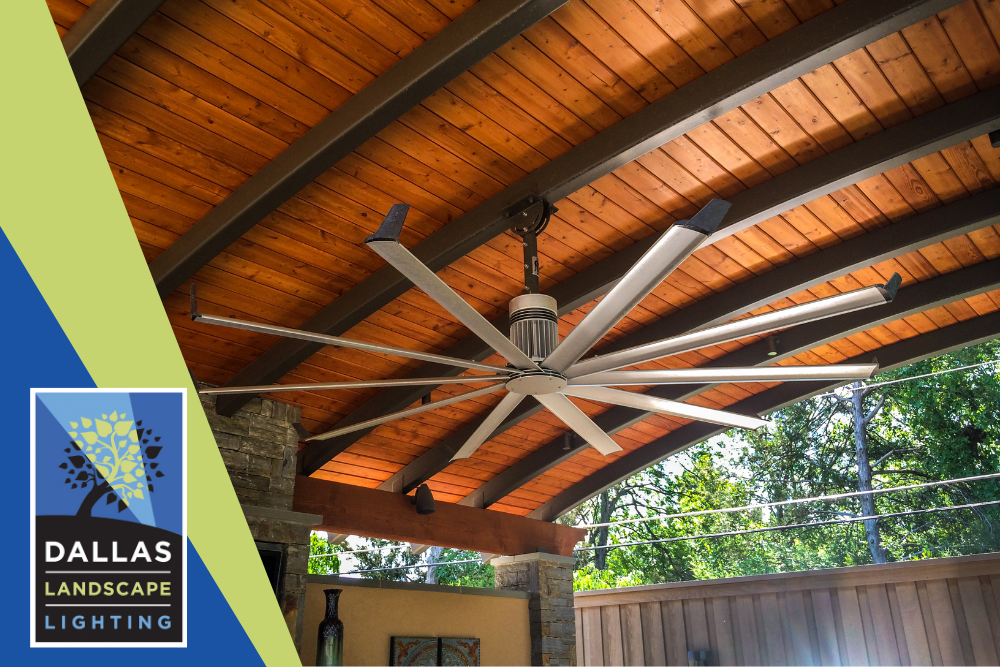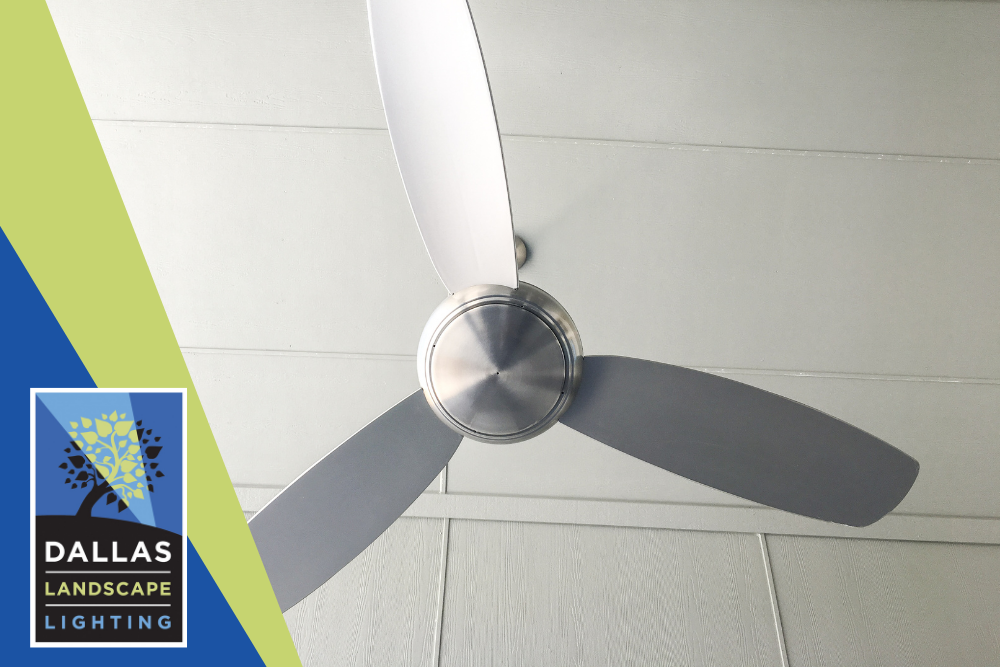 Dallas Landscape Lighting Installs Fans In Your Indoor & Outdoor Structure
Improve your outdoor living space with a ceiling fan installed by Dallas Landscape Lighting – your go-to electrical service provider. Our team of master electricians specializes in installing outdoor fans that make your space more welcoming; we also install landscape lighting and perform several other electrical services that make your home more livable.
Outdoor Fan Installation in Dallas and the Surrounding Communities
Outdoor fan installation isn't typically a DIY job – it requires extensive knowledge of electrical wiring. For most people, the best solution is to hire an outdoor fan installation contractor who can create a customized plan and implement it.
That way, all you have to do is choose the perfect fan for your space; you can let Dallas Landscape Lighting handle the rest.
What to Consider Before Outdoor Fan Installation 
Choosing to install an outdoor ceiling fan involves picking the right fan (or fans), selecting the ideal location outdoors and a handful of other factors. Many homeowners hire Dallas Landscape Lighting for outdoor fan installation to cool down outdoor living spaces, circulate air and provide ambiance on porches, patios, pergolas and sunrooms. Our experts will help you find the right solution to fit your needs and your budget.
How Much Does it Cost to Install an Outdoor Ceiling Fan? 
Your cost to install an outdoor ceiling fan depends largely on the fan you choose. Small fans don't provide as much coverage as larger fans do, but they're generally less expensive.
Large fans can be more costly while providing more coverage. In some cases, particularly in large outdoor living spaces, you need multiple fans. Here are some general rules of thumb:
Spaces up to 75 square feet can use fans with a diameter of 29 to 36 inches.
Outdoor rooms from 76 to 144 square feet generally need fans that are 36 to 42 inches in diameter.
Large outdoor spaces measuring between 144 and 225 square feet typically need fans with a diameter of at least 44 inches.
Extremely large outdoor spaces that measure between 225 and 400 square feet generally need a 50- to 54-inch fan.
The height of the fan also determines how much air it can move, as well as whether you should use one that's flush-mount or low-profile (ideal for 8-foot ceilings), one with a standard-length downrod that works best on 9-foot ceilings, or one with an extended downrod that's made for ceilings higher than 10 feet.
You also need to consider whether you need a fan with a built-in light, whether you want it to have a pull-chain, wall control, remote control or smart device control.
Book A Free Consultation!
If you have any questions about fan selection or installation, contact Dallas Landscape Lighting for a Free Consultation today!

How Many Blades Should an Outdoor Fan Have?
Three fan blades is generally very efficient – efficient enough to cool a significant amount of space outdoors. However, the more blades you have, the quieter your fan may be. You'll often see fans featuring four to six blades. You do need to know that having more than six blades can make a fan less efficient. However, those additional blades can be more attractive.
Considering Blade Shape and Size Before Your Outdoor Fan Installation
Wider, longer blades require more effort to turn. Although outdoor fans come with powerful motors, even the most powerful motor can fail at making a fan effective. Rather than choosing a larger, less-efficient fan, you may need to consider adding multiple smaller fans to cool your outdoor space.
Will Your Existing Outlet Box Support a Ceiling Fan?
If you already have an outlet box, it may be able to support a new ceiling fan. It should be marked to indicate whether it can handle ceiling fan installation. However, if it can't, we can safely and securely install a new outlet box that will.
How Much Weight Can a Ceiling Light Box Hold?
Generally, all ceiling boxes must support at least 50 pounds of weight. However, boxes that are designed to support ceiling fans must be labeled that way; the label must also include the weight it can support if that weight is over 35 pounds. There are ceiling boxes built to accommodate very heavy fans and light fixtures, so if yours isn't up to par for what you'd like to install, don't worry – we can install one that will accommodate your ceiling fan and light fixture.
Outdoor Rated Ceiling Fans
Outdoor fans are made from materials that can handle the elements. There are two main types of outdoor ceiling fans: damp rated and wet rated. Both these types of fans are built with special protectant on their wiring. The type of fan you choose depends on where you plan to install it and the conditions it'll face after it's in place.
You should only use damp-rated outdoor ceiling fans in areas that are covered and protected from direct exposure to rain. These fans can resist dampness, but they're prone to issues if they're directly exposed to water.
You can use wet-rated outdoor ceiling fans in covered and protected areas or in areas that aren't sheltered from the elements. Wet-rated fans will be fine in heavy rains – in fact, you can even wash them off with a hose.
Outdoor ceiling fan blades are generally made from special materials that can handle being exposed to the elements; they're often called "all-weather" blades. Most feature powder-coated paint finishes that prevent corrosion and rust, and they're generally equipped with a waterproof seal around the motor casing to prevent moisture from getting inside.
Dallas Landscape Lighting Installs Fans In Your Outdoor Structure
Dallas Landscape Lighting is your go-to electrical service provider for all of your outdoor (as well as indoor) electrical needs! One of the most common tasks our electricians have on their daily schedule is ceiling fan installation in Dallas, Collin & Rockwall counties. Most of the time they are called to install fans in newly built arbors/outdoor structures. Because the Texas summers are long and the heat can last from spring to mid-fall, homeowners here in North Texas are lining up to have custom outdoor living spaces built. With so many of these new additions being built in our area, customers keep our crew busy installing ceiling fans year-round.
Arbors, patios and custom outdoor structures are very practical as they provide shade and shield you and your family from the sun's rays. Another practical benefit is the addition of square footage! The outdoor 'entertaining space' gives your family & guests more room to spread out! Because they are so inviting, they often become the main 'room' to entertain guests in.
Homeowners like to treat their outdoor space like an indoor space by adding weatherproof upholstered furniture, specialty lighting, a bar and barstools, an outdoor kitchen complete with a fridge and grill top, flat screen TVs with surround sound, outdoor heaters and other appliances. They have endless choices when it comes to ways to amp up the comfort level of an outdoor space. While many of our customers opt for all the bells and whistles, some tend to go with the 'less is more' idea. However, one thing homeowners almost always include in their new outdoor living space is a ceiling fan (or two, or three).
Combining an Outdoor Fan Installation With New Landscape Lighting
Creating the perfect outdoor living space is about more than adding a fan to your patio. It's about building ambiance through comfort, including landscape lighting, fans and more. Whether you're creating a new outdoor living space or improving on what you already have with lighting and outdoor fan installation, Dallas Landscape Lighting can help. Call us today for a free consultation with a design expert and master electrician who can help you create the perfect outdoor living space.
Book A Free Consultation!
If you have any questions about fan selection or installation, contact Dallas Landscape Lighting for a Free Consultation today!