Commercial Outdoor Lighting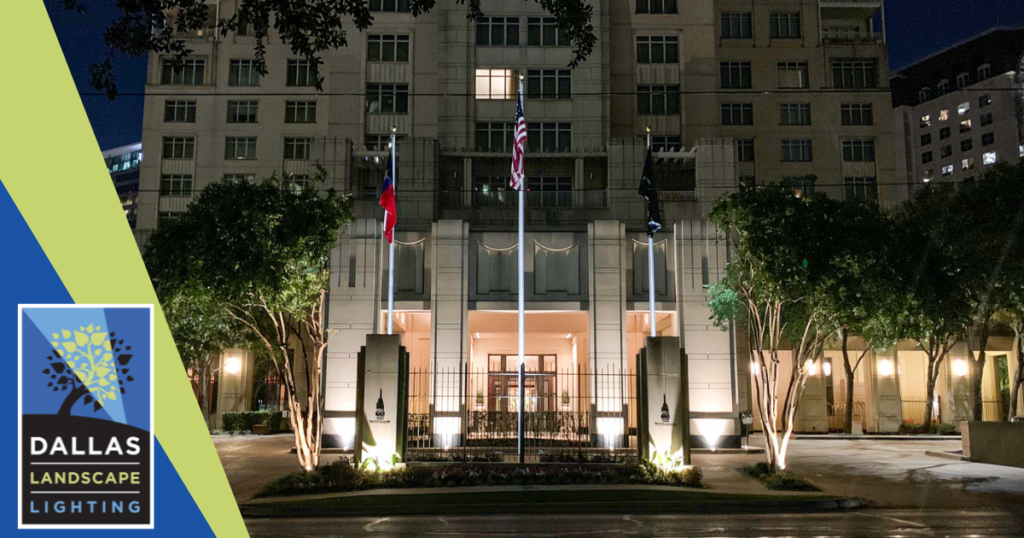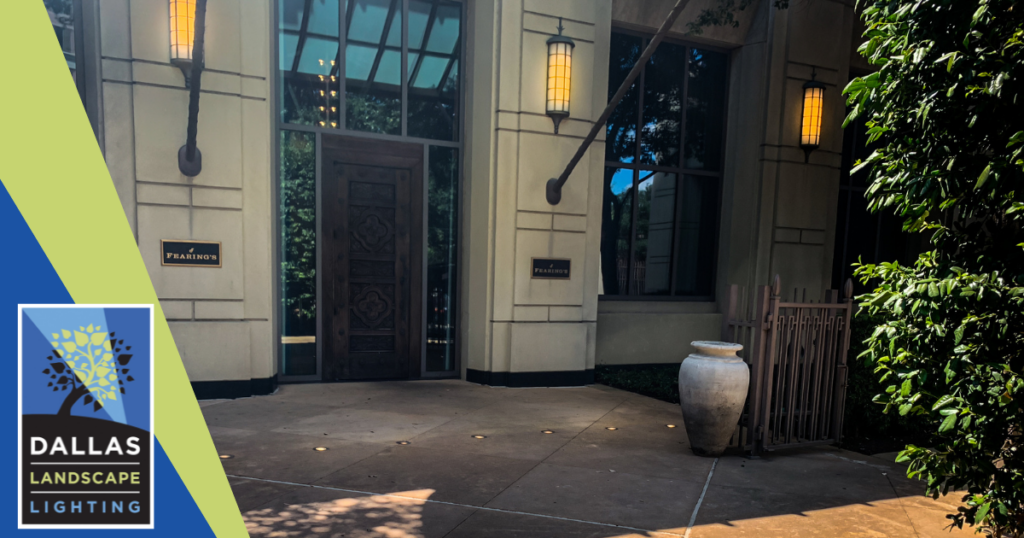 Commercial outdoor lighting is an important aspect of running a business. It can be used to draw attention to your building, provide security in the parking lot, or bring in new business as the sun dips below the horizon. 
There are many different types of commercial outdoor lighting, and it's important to choose the right type for your business.
Why Do You Need Commercial Outdoor Lighting?
There are many reasons why commercial businesses need outdoor lighting. For some businesses, like restaurants and clubs, outdoor lighting is essential for providing a welcoming atmosphere and attracting customers. 
Other businesses, such as stores, industrial buildings, offices and factories, need outdoor lighting for safety and security purposes.
One thing's for sure, though: you can't trust your commercial outdoor lighting to just anyone. 
You need a team of professionals who have been lighting up Dallas landscapes, commercial buildings and other areas for years. You need Dallas Landscape Lighting.
Types of Commercial Outdoor Lighting
The most commonly used types of commercial outdoor lighting include floodlights, area lighting, security lighting, outdoor wall lights, surface-mount lights, path and garden lights, and in-ground or well lights. 
Here's an overview of each:
Floodlights are one of the most popular types of commercial outdoor lighting. They're typically used to wash a building's facade with light or to provide security lighting in a parking lot.
Area lighting is used to illuminate large areas like parking lots, sports fields and other commercial outdoor spaces.
Security lighting is used to deter crime and provide a sense of security for commercial businesses.
Outdoor wall lights are mounted on the exterior walls of commercial buildings. They can be used for general lighting, accent lighting or security lighting.
Surface-mount lights are mounted on the ceiling or soffit (the underside of an overhang) of a commercial building. They're typically used for general lighting, accent lighting or task lighting.
Path and garden lights are used to illuminate walkways, gardens and other landscaped areas around commercial buildings.
In-ground or well lights are placed in the ground and used to highlight features like trees, sculptures and other architectural elements.
Request A Free Consultation or Estimate Now!
Restaurant Lighting
Restaurants need outdoor lighting, particularly around signage and the building's facade, as well as in the parking lot. With the right illumination, you can make your restaurant more inviting and increase business.
Salon and Spa Lighting
As with restaurants, first impressions are key for salons and spas. You can use commercial outdoor lighting to accentuate your business's signage and make it more visible from the street. You can also use landscape lighting to create a relaxing atmosphere in an outdoor seating area or increase the beauty of the space to give people a reason to come inside.
Commercial Store Lighting
Stores need commercial outdoor lighting for both safety and security purposes. A well-lit parking lot will deter crime and make it easier for customers to find their way to your door. Proper outdoor lighting around the store's perimeter will also help deter crime. But crime aside, a store that's well-lit in the evening is attractive, and it makes people want to come inside.
Strip Mall Lighting
Most strip malls have a common area that needs to be lit for safety and security, as well as to make the area in front of stores walkable when the sun goes down. Like most commercial businesses, strip malls have large parking lots that can benefit from an in-depth, planned lighting scheme that goes above and beyond normal street lights.
Parking Lot Lighting
Parking lots need commercial outdoor lighting for safety and security purposes. Good lighting makes it easier for people to find their way to the entrance of a business, and it also deters crime. A well-lit parking lot is an important part of any commercial outdoor lighting plan.
Industrial and Factory Lighting Outdoors
Factories, warehouses and other commercial businesses that are open in the evening need outdoor lighting to keep workers and products safe. And with modern developments in architecture, factories and warehouses don't look like they used to; you can use lighting to enhance the appearance of your workplace and make it more welcoming to employees and your business associates.
Park Lighting
Parks need commercial outdoor lighting for many reasons. Park lighting, though aesthetic, can also help deter crime, make the park more inviting and help people find their way around. Park lighting is also important for safety reasons; well-lit areas are more visible and therefore more likely to be avoided by potential criminals.
When it comes to illuminating a public park (or any other public space where people gather), you may have a little more creative freedom than you would around a standard commercial building. You can use arbor lighting, string lights and a variety of other lighting features to make the space a welcoming haven.
Playground Lighting
As with parks, playgrounds need commercial outdoor lighting for many reasons. A well-planned lighting system can make any play space more accessible and more fun for kids – and it has the added benefit of promoting safety. Criminals are far less-likely to show up in a place that's well-lit and cared for.
Attraction Lighting
If you're in the business of running a commercial attraction – whether it's an amusement park, a museum or something else – you need to make sure your attraction is well-lit. Good lighting can help people find their way around, and it can also enhance your guests' experiences. Attraction lighting can be used to create different moods and atmospheres, and it can help people see things they'd ordinarily miss in the dark.
Neighborhood Lighting
Many homeowners associations are tasked with providing neighborhood lighting, and that's where Dallas Landscape Lighting shines (and yes, we meant to write that). We've worked with countless HOAs to design and install lighting systems that make neighborhoods safe, attractive and welcoming.
What Are the Best Outdoor Lights for Commercial Businesses?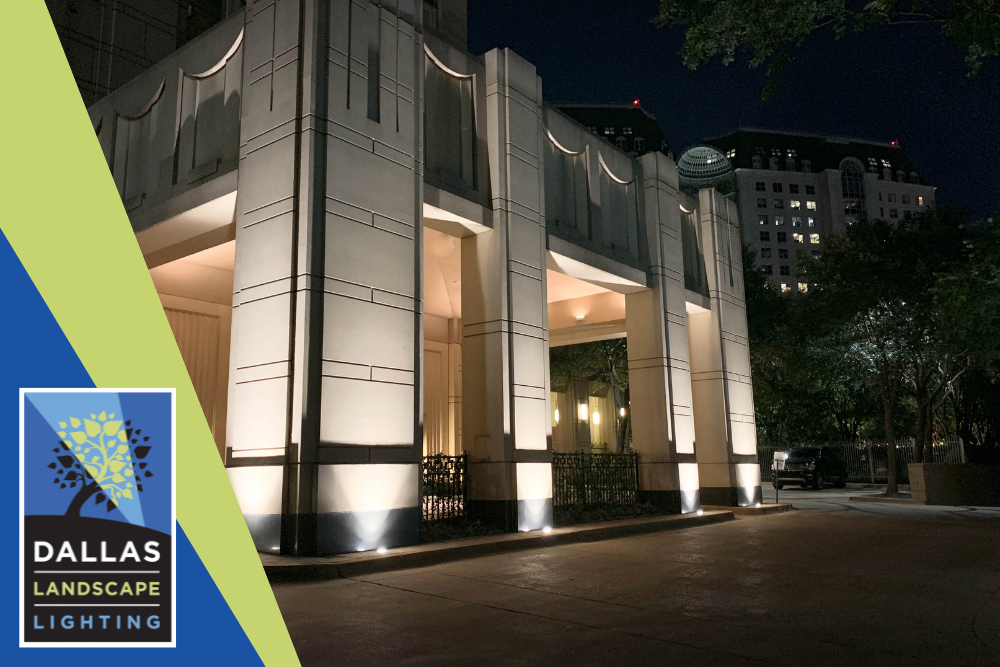 There is no one-size-fits-all answer to this question, as the best outdoor lights for commercial businesses depend on the specific needs of the business. That said, there are a few general tips that can help you choose the best lights for your commercial property. Check them out here:
Consider the purpose of the lighting. What do you need the lights to do? Do you need them for safety, security or simply to make the area look more inviting?
Think about the location of the lighting. Where will the lights be placed? Will they be in reach of people or animals?
Choose the right type of light. There are many different types of commercial outdoor lights, so make sure you choose the ones that will work best for your needs.
Think about the size of the lighting. Will the lights be too big or too small for the area you're trying to light?
Be sure to consider the cost of the lighting. When you work with Dallas Landscape Lighting, we'll help you choose the right lights for your budget.
Do You Need to Plan Your Own Commercial Outdoor Lighting?
Dallas Landscape Lighting has decades of combined experience installing commercial outdoor lighting, and that means when you come to us, you don't need a plan. We can put one together for you!
Our team will evaluate your site and determine where the lighting should go, what type of lights to use and how to wire everything together. We'll even give you a free estimate so you can see how much your new commercial outdoor lighting will cost. Call us today to schedule a consultation with our in-house commercial outdoor lighting experts.
Do You Need to Talk to an Expert
About Commercial Lights?
If you're thinking about having your commercial building for a special occasion or for the long-term, we can help. Call our office today to schedule a completely free consultation with an expert who can explain your options and answer all your questions.