Landscape Lighting in McKinney, TX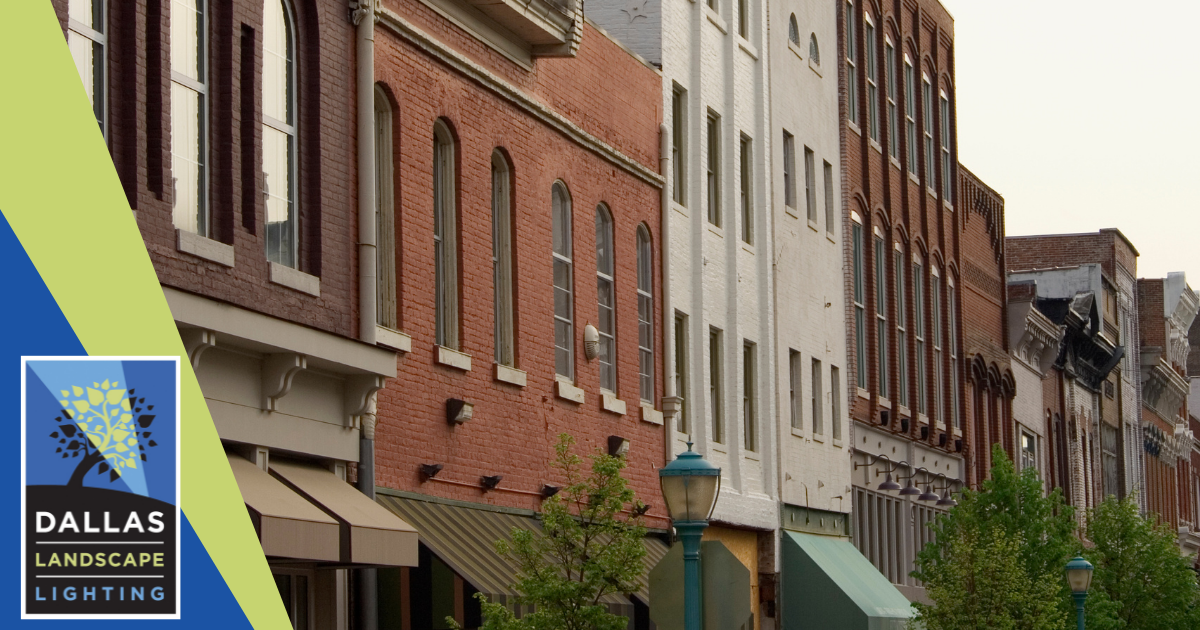 If you are like many people, you know that great landscape lighting has to start with a solid plan and a team of experts – and that's where Dallas Landscape Lighting comes in. Our team can help create stunning lighting for a special event or everyday use, and because we are led by a master electrician, we can perform all kinds of other electrical work, as well.
Dallas Landscape Lighting is your one-stop shop for landscape lighting, pool and spa wiring, electrical repairs and maintenance.
Expert Landscape Lighting in McKinney, Texas
From security lighting to special event lighting, Dallas Landscape Lighting has you covered. Our team can handle:
Holiday and party lights
Pool and spa wiring
Outdoor living space lights
Rewiring for fans and new lights
Electrical wiring for outdoor appliances
Running new wires to additions
Code violation repairs
Emergency light and flood light installation
Generator installation
Home sale inspection repairs
New electrical circuits on commercial machinery
Standard electrical system maintenance
Here's a closer look at each.
Stunning Holiday and Party Lights in McKinney
Dallas Landscape Lighting Specializes in holiday and party lighting. Whether you need a big display for your home or business, you're hosting a wedding of any size, or you're having the birthday, graduation, or retirement party of a lifetime, our team can create an unforgettable display. In fact, we've been installing holiday light displays all over Texas since 2000; we've worked in McKinney and all the surrounding communities. Our team provides all the supplies necessary to bring your vision to life; we install and remove all the lights, as well.
Many of our clients come to us for design and installation services. That means you don't need to have a plan in mind; we'll work with you every step of the way to ensure that you have the most spectacular light display for the holidays or your special event.
Pool and Spa Electrical Wiring
Pumps, lights, heaters and other features all need power, and Dallas Landscape Lighting can get everything connected so you can enjoy your pool and spa right away. It's our mission to ensure that you can enjoy your outdoor living space to its fullest potential, so we'll create a wiring plan that covers it all. Then, we'll run electricity to your pool or spa so you're free to enjoy it after dark.
Outdoor Living Space Lighting
From tree moonlighting to string lights, we can illuminate your outdoor living space so it's perfect for relaxing or entertaining. We can light up your gazebo, children's playhouse, patio, pool area, or even your entire backyard. Our team can create just the right ambiance to add value to your home.
Request A Free Consultation or Estimate Now!
Rewiring for Fans and New Lights
When you want to install a ceiling fan in your home, gazebo, patio or other space, you may find that you need new electrical wiring to do so. Many homes aren't electrically equipped to handle ceiling fans; likewise, sometimes new lighting requires new wiring. If that's the case in your home, Dallas Landscape Lighting has you covered. We can evaluate your current electrical wiring system and determine what's necessary to get you on track. We can also install new wiring if necessary.
Bringing Power to New Additions to Your Home or Business
If you've added onto your home or business, you can't trust your electrical system to just anyone. Our master electrician can ensure that you are new wiring is up to code and can support appliances and your other electrical needs. We'll create the entire plan from start to finish, and then we'll install all the appropriate wiring so you can stay connected in your new space.
Electrical Wiring for Refrigerators, Stoves and Other Outdoor Appliances
Outdoor appliances need power to run and we can make it happen. Whether you have an outdoor kitchen designed for unforgettable entertaining or you simply need power in a gazebo, playhouse, or other backyard feature, we can create a plan to get the juice you need to your outdoor appliances.
Code Violation Repairs
Electrical codes are subject to change frequently, so it's not uncommon for people to have outdated wiring systems in their homes or businesses. Because our team is led by a master electrician, we can perform code violation repairs to ensure that your home or business is operating safely. We can keep your home or business compliant with local, state and federal codes so you never have to worry about a thing.
Installation of Emergency Lights and Flood Lights
Don't get caught in the dark during an emergency – let Dallas Landscape Lighting install emergency lights and floodlights in and around your home or business. Whether you're interested in home security, safety, or both, we can ensure that you have the illumination necessary to protect yourself and your property. We can install emergency safety lights indoors and outdoors, as well as floodlights for security or aesthetics.
Generator Installation in McKinney
When the grid goes down, a generator can help ensure that things in your home or business are still running smoothly. We specialize in generator installation; in fact, we can even help you pick out the right generator for your needs. From there, you can leave it in our hands. Our team can ensure that you have the electricity you need to keep things running smoothly.
Repairs After Home Sale Inspections
When you're selling your home in McKinney (or any of the surrounding communities), there's a good chance that your buyer will send out a home inspector. If the home inspector discovers issues with your electrical wiring, you'll need to fix them before your sale can go through. That's where we come in. We can make all necessary electrical repairs, as well as ensure that your home is up to code so your sale can go off without a hitch. Many of our clients come to us before even listing their homes for sale; we can inspect the entire electrical system and head off potential problems.
New Electrical Circuits on Commercial Machines
Keep your business running smoothly by working with us to install new electrical circuits on your commercial machinery. We've worked in McKinney and the surrounding communities for more than two decades, and we can help you, too. Our master electrician can evaluate your commercial machinery, perform standard electrical maintenance, and make all the necessary repairs to save you from unnecessary downtime.
Standard Electrical System Maintenance
Our team of electricians can handle all of your electrical needs. We'll perform inspections and repairs as necessary. Even you need major rewiring, we're prepared. We follow changes to the National Electrical Code (NEC) closely, so we know what to do to keep your space safe and running smoothly.
Do You Need Help From McKinney's Landscape Lighting Experts?
Whether you need landscape lighting, security lights, a beautiful holiday light display, wedding lighting or anything related to electricity and electrical wiring, Dallas Landscape Lighting has you covered. Our team will be happy to evaluate your needs and answer your questions, so call us today to schedule a free consultation with McKinney's landscape lighting experts.
Do You Need to Talk to the McKinney Lighting and Wiring Experts?
If you need landscape lighting, electrical wiring or anything similar, our team is here to help. Call our office today to tell us what you're looking for, whether it's a dazzling holiday display, wiring to your pool or spa, or bringing an investment property up to code. Our team will evaluate your project and give you a quote right away.