Party / String Light Installation in Dallas
For over a decade, Dallas Landscape Lighting's team of electricians and tree climbers have been installing Christmas lights, Party Lighting & Outdoor Wedding/Reception/Special Occasion String Lighting in Dallas Metroplex.
Party lights, Christmas lights & holiday lighting,  string lights are a simple, yet STUNNING way to create a festive atmosphere for outdoor weddings, parties, receptions, and of course Christmas/the holidays. Trees wrapped in white lights, bulbs strung from tree limb to limb over a pool, strings of lights draped under the reception tent… there are MANY options for outdoor party lighting in Dallas.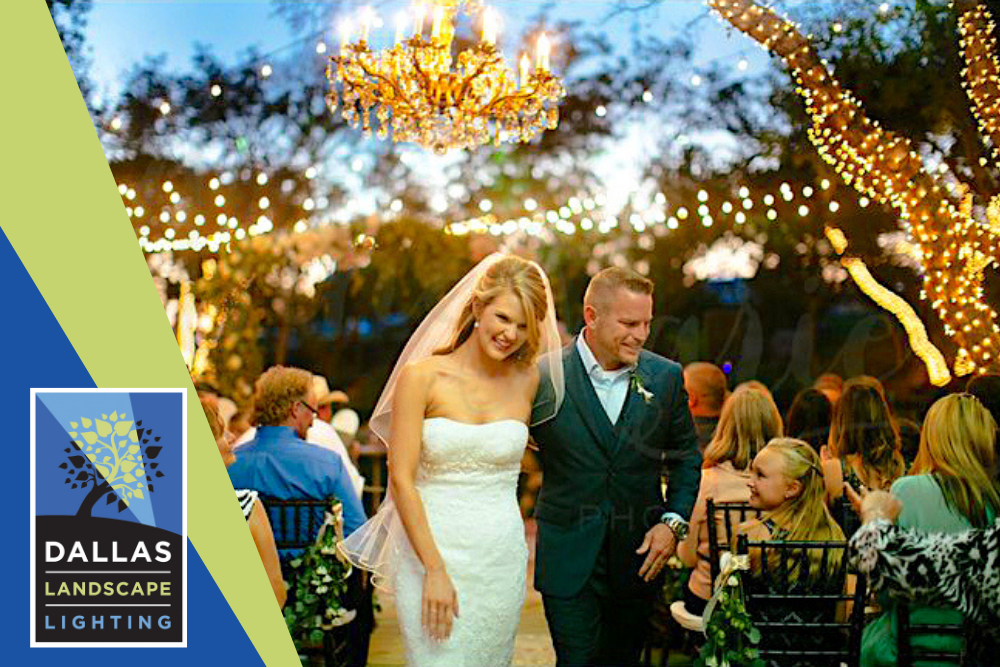 Dallas Landscape Lighting's turnkey Christmas light decoration services:
*We will provide all necessary lights and supplies.
*Installation of on/off timing devices if homeowner or business owner desires.
*Maintenance to lights during holidays should it be required.
*Removal of lights after the holiday season.
*The use of energy efficient lights and premium products.
*Dallas Landscape Lighting offers holiday light storage throughout the year (optional).
Dallas Landscape Lighting provides party lighting installation (also called string lights/Christmas lights) services for our residential and commercial customers in and around Dallas, Collin & Rockwall counties of North TX. If you are searching for a company that provides special event lighting for outdoor wedding receptions, parties or for the holidays/ Christmas light installation in Dallas TX, contact Dallas Landscape Lighting by email or by phone at 214-202-7474 today! A free estimate on hanging (and removing) Christmas lights on your house (or commercial building) is a phone call away!
Licensed and bonded, we have both the design and electrical experience to install dazzling Christmas lights that reflect the joy and beauty of the holidays. The holidays are busy enough, so let us scale the rooftops and treetops for you. As the end of the year approaches, contact us and let's discuss how we can take your holiday lighting plan and make it happen, professionally and affordably.
Book A Free Consultation!
**COVID INFO: We Are Offering Free Over the Phone Estimates & Consultations**