Wrapped Tree Lighting in Dallas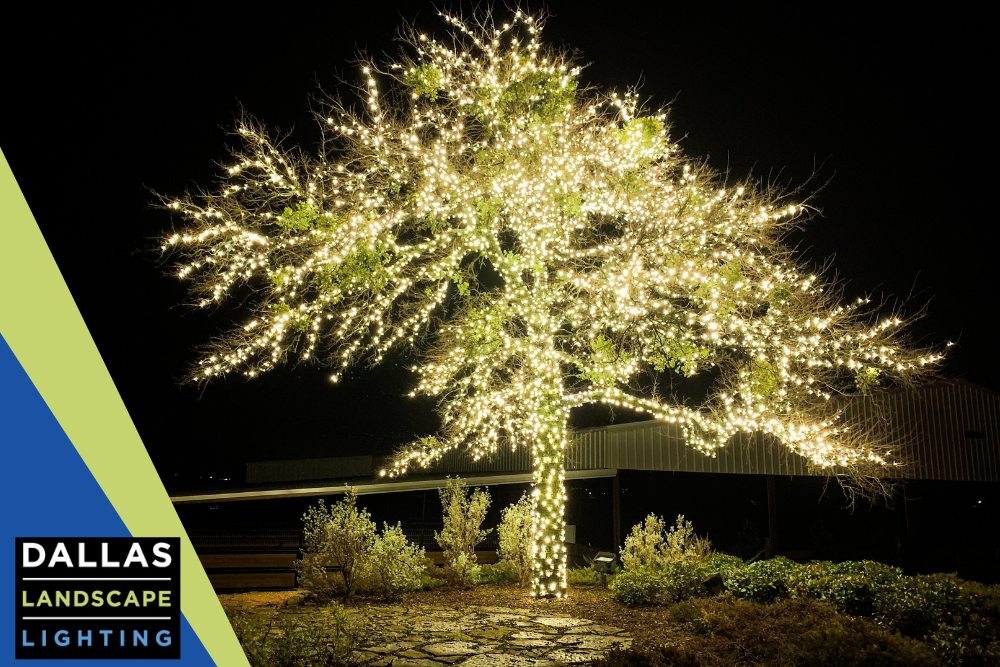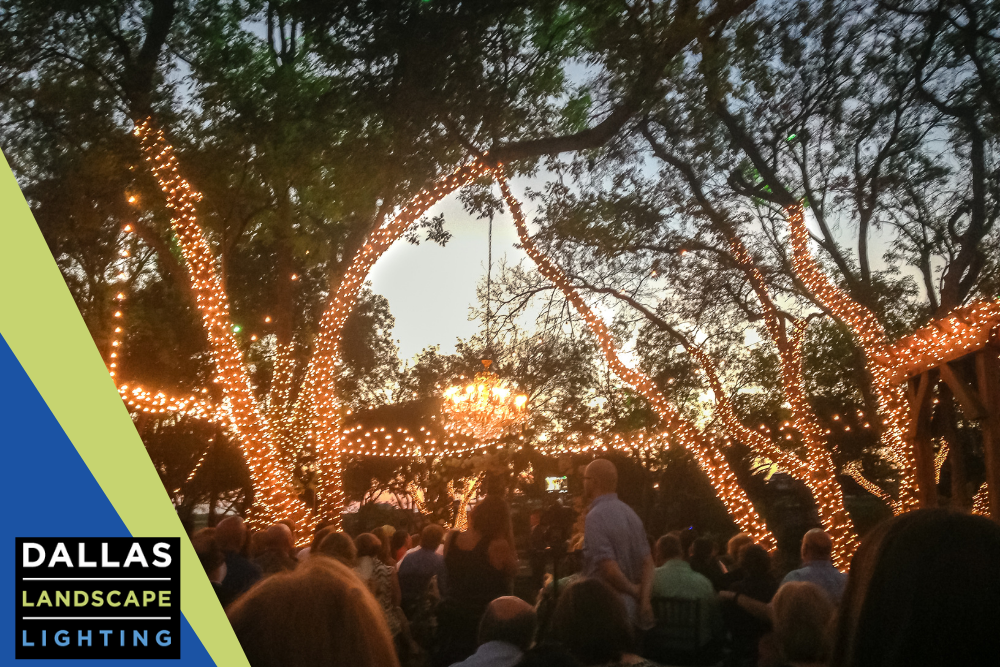 Whether you're hosting a big event, such as a wedding or charity auction, or you simply want to improve your outdoor living space, wrapped tree lighting can give you the perfect look. Dallas Landscape Lighting is your one-stop shop for unforgettably beautiful outdoor lighting.
Wrapped Tree Lighting: The Basics
Wrapped tree lighting involves circling the trunk and branches of a tree – or of multiple trees – with string lights to create twinkling illumination. Depending on the size of your trees and the level of illumination you want, it can be a simple, straightforward job or it can be a bit more complex (but either way, it's nothing that Dallas Landscape Lighting can't handle).
When it comes to wrapped tree lighting, you have several options for creating a look you and your guests will love. You may choose white lights or colored lights, large bulbs or small bulbs, and even the height at which the illumination stops.
Many people choose to have trees wrapped when hosting outdoor galas and special events, such as weddings, charity balls, and a wide range of other parties and celebrations. Because tree wrapping can create just the right amount of magical-looking illumination, it's the ideal choice. It can also be used in conjunction with string lighting (often called fairy lights, which are designed to hang from high points in your space) and holiday lighting.
Style Choices for Wrapped Tree Lighting
The sky (well, technically, the top of your tree) is the limit when it comes to style choices for wrapped tree lighting. Usually, it all starts with a vision; you tell us what you're looking for in your space, and we will let you know what will look best and can make adjustments and work out the details to create the perfect ambiance for you. Whether you prefer tiny, twinkling white lights that give your space a fairy tale appearance or you'd rather have row after row of brightly colored, festive lights, Dallas Landscape Lighting can make it happen.
Our team has been serving Dallas, Collin, and Rockwall Counties since the year 2000. We've served more than 10,000 customers, including homeowners, businesses, and nonprofit organizations. We've worked hard to earn our reputation as the premier outdoor lighting company in Dallas.
Types of Bulbs Typically Used for Tree Lighting
There are several types of bulbs we can use to wrap your trees, and they often depend on the type of tree we're working with. We also illuminate bushes and hedges, which sometimes require different types of bulbs. Essentially, though, what it boils down to is your preference. When you explain your vision to us, we'll make the appropriate suggestions to create a look you and your guests will fall in love with – and then we'll put our team to work.
What About Energy Efficiency?
Dallas Landscape Lighting uses energy efficient lights to wrap trees, and we use other premium products, as well. We respect our clients and the environment, and we do what it takes to create the perfect look with minimal energy consumption.
Request A Free Consultation or Estimate Now!
The Best Events for Wrapped Tree Lighting
We may be a little biased, but we don't believe you need to wait for a special event to have a tree wrapped in lights. However, we understand that many of our clients want to create a special look for a one-time event.
Often, our clients come to us to wrap trees for weddings and wedding receptions, fundraisers and charity events, birthday parties, retirement celebrations, citywide festivities and a huge range of other special occasions. We can also do complete party light setup – it doesn't just stop with trees.
Our team is led by a master electrician who can handle all your outdoor lighting needs, whether you need something for a special occasion or a permanent setup (such as a complete landscape lighting system, gazebo or swimming pool lighting).
Setup Basics: Everything You Need to Know About Having Your Trees Wrapped in Lights
When you choose to work with Dallas Landscape Lighting to wrap your trees in lights, it starts with a consultation. You explain your vision to us, and we will make it happen. Our team will arrive at your location to set up your party lights with all of the equipment necessary to create the right look. We are always prepared for anything, and we provide all of the supplies (including the necessary hardware, power cords, ladders and other gear). All you have to do is sit back, relax and watch the magic happen.
Common Questions About Wrapped Tree Lighting in Dallas
Check out these FAQ about wrapped tree lighting. If you don't see the answer to your question here, please feel free to get in touch with us. Our team will be happy to answer your questions so we can get you moving in the right direction.
What Kinds of Lights Does Dallas Landscape Lighting Use for Wrapped Tree Lighting?
We use a variety of light types to wrap trees in Dallas and surrounding communities. There are several options available, depending on the types of trees we are illuminating, the colors you choose and the style you want. We choose the most energy efficient bulbs and use only premium equipment to ensure that everything looks its best and works as intended.
How Much Pre-Planning Do You Need to Do Before Having Your Trees Wrapped?
If you already have a vision in mind, we'd love to hear about it – but it's not necessary. In fact, we have so much experience wrapping trees in Dallas and the surrounding communities that we can create a strategic plan that results in a spectacular, unforgettable look. Our team can gauge your space and design and entire lighting scheme if you don't have the time or the inclination to do so. Essentially, you can simply leave it up to us and we'll make sure you're happy.
How Long Does Tree Wrapping Take?
Tree wrapping may take anywhere from a few hours to several. The size of the tree, as well as the number of trees you need illuminated, will determine how long it takes. We will send out a full crew to get the job done as quickly and efficiently as possible. If you call our office and let us know what you're thinking, we can let you know approximately how long the job will take.
How Much Does it Cost to Have a Tree Wrapped in Lights?
The cost of tree lighting varies greatly. Naturally, the number of trees you need illuminated, as well as their size, type and other information, plays a big role in your final cost. The best way to find out which costs to have it wrapped in lights is to get in touch with our office for a free consultation. We can give you a quote on our services that includes supplies and labor so you know exactly what to expect.
Do You Need to Talk to an Expert
About Wrapped Tree Lights?
If you're thinking about having your trees wrapped for a special occasion or for the long-term, we can help. Call our office today to schedule a completely free consultation with an expert who can explain your options and answer all your questions.