The Premier Outdoor Heater Installation Company in Dallas
Outdoor Heaters for Patios – Electric Space Heater Installation
Outdoor heaters for patios are growing in popularity – and it's no wonder. Outdoor living space is at a premium, and with the right electric space heater installed, you can enjoy your porch or patio all year.
What is an Outdoor Heater?
Types of Patio Heaters
There are two main types of patio heaters: those that burn fuel and those that use electricity to stay warm.
Outdoor patio heaters are available in a wide range of sizes, as well. Most are capable of certain amounts of coverage (in square feet). The heater you need depends on the size of your outdoor living space (and how much of it you want to heat), as well as how much you need to raise the temperature in that area.
Because outdoor patio heaters come in a variety of styles – including free-standing units, tabletop heaters, wall heaters, and hanging heaters – you have several options. 
A professional from Dallas Landscape Lighting can help you choose the best solution for your outdoor living space.  
Request A Free Consultation or Estimate Now!
Fuel-Burning Patio Heaters 
Fuel-burning patio heaters are the most common type, and they're relatively easy to install, but here's what you need to know:
Propane heaters don't require installation (provided they're small enough for you to handle yourself), but over time, propane costs more to use.
Natural gas heaters are usually the most economical type, though they may cost more to install than other types do. They require professional installation because they're connected to a gas line; that means they need to be plumbed and installed by an expert to ensure that they're safe to use. And because they're connected to a gas line, you don't have to worry about resupplying them like you would with a propane patio heater.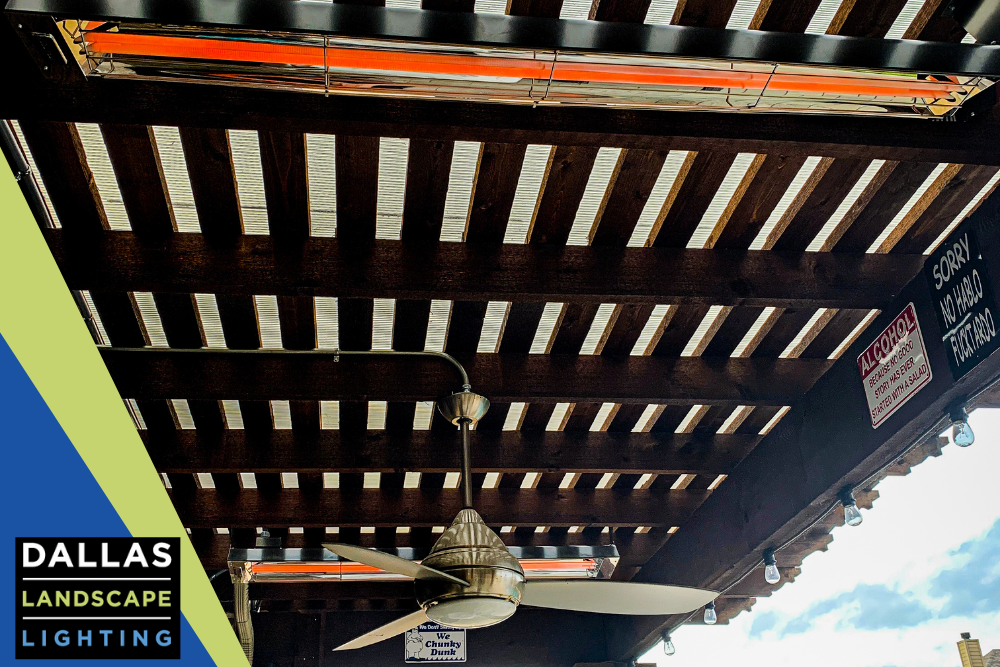 Electric Patio Heaters 
Electric patio heaters typically fall into a price range between propane and natural gas outdoor heaters. These heaters are exceptionally efficient and create zero emissions, and they never need a refill because they're simply plugged into an electrical outlet.
Infratech heaters are fixtures at some of the most sought-after commercial and residential properties in the world. Why? When it comes to design, installation, manufacturing and control functionality, they offer a robust set of industry-exclusive features and benefits.
Dual element fixtures produce more concentrated heat and can be mounted up to 14 feet high? They are ideal for use in settings that require higher mounting height requirements, or when more intense directional heat is desired.
It's easy to get the heating coverage you require because dual element heaters are available in 3,000, 4,000, 5,000 and 6,000 watt models!
High-powered, dual-element WD-Series fixtures provide more concentrated heat for recessed installations, premium outdoor heating applications, large scale coverage needs, and spaces with 8-14 foot mounting heights
Choose from 3,000-6,000 watt and 208-480 volt capacities
Typically installed with solid state controls, to vary the electric load for comfortable heat in a wide range of conditions
May also be installed with duplex/stack switches for effectively a half-power or full-power option
Why Choose An Electric Heater, Rather Than A Gas Heater?
Simply put, electric heaters look better, are more efficient and are easier to operate and maintain.
Electric heaters are over 90% efficient and are perfectly safe for use indoors or outdoors. They are also economical to operate and require little maintenance beyond periodic cleaning. Unlike gas heaters, there are no valves, ignition components, moving parts or burners to maintain or repair. In addition, electric heaters produce no sound, odors or toxic emissions.
An electric heater is also easier to use.
Enjoying electric comfort heat is as easy as flipping a switch. You can adjust the intensity of an electric heater infinitely from zero to 100% of power by using Infratech Controls. By contrast, gas heaters only produce infrared energy on their highest possible settings.
Do Outdoor Heaters Really Work? 
Outdoor heaters can make an excellent addition to your outdoor living space because they work exceptionally well. These types of heaters, depending on their size, can heat large spaces so you can enjoy the outdoors all year.
Are Patio Heaters Safe? 
Just like modern space heaters, patio heaters have built-in safety features that are designed to protect you, your family and your guests. These features include tilt shut-off valves, which cause the unit to stop using power (whether it's fuel or electricity) if it tilts or falls.
As with any other space heater, you must still ensure that you create enough clearance all around the unit to prevent anything from getting too close. You should install your patio heater in a place where it won't come into contact – or even come too close to – combustible items.
Can You Use an Outdoor Heater Under a Covered Patio? 
You can absolutely use an outdoor heater under a covered patio. Because these heaters are equipped with several safety features, it's safe to use them nearly anywhere. However, you should consult with the experts at Dallas Landscape Lighting to ensure that your unit's placement makes sense (and keeps you, your family and your guests safe). 
Request A Free Consultation or Estimate Now!
Are Electric Outdoor Heaters Expensive to Run? 
Electric outdoor heaters aren't exceptionally expensive to run. However, that depends on how often you use your unit, the size of the unit and how much heat it creates. Your electric bill will vary based on those factors.
It's easy to estimate your operating cost by multiplying the total kilowatts by your local power rate for a "kilowatt hour" (kwh).
Standard power rates vary from market to market. Your rate should appear on any monthly utility statement.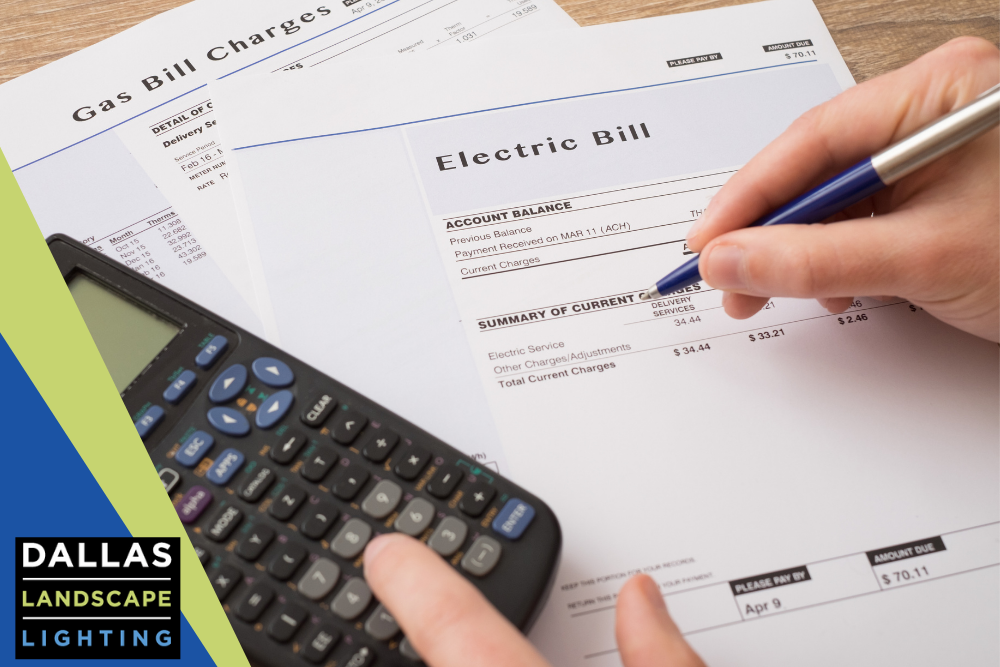 For example, a typical 3,000 watt (3 KW) heater, at full power, would cost 39¢ per hour based on a utility rate of 13¢ per kwh. Also keep in mind that your electric heater has a lower acquisition cost than a standard gas heater.
While operating costs vary by region, nationwide electric heaters are less expensive than propane, and are competitive with natural gas expense.
Depending upon the total hours of usage, electric heaters normally have a much lower cost of ownership when factoring in purchase price and maintenance needs.
Basically, this means that while it can cost more per hour to operate an electric unit in some areas, it typically takes 7-10 years to save enough money operating on gas to recover the substantially higher purchase price-not to mention cost of regular maintenance for a gas heater.
Outdoor heaters have been popular up north for a long time – but Dallas outdoor heater installation is becoming very popular among home & business owners. Not long ago, they were primarily used by businesses, restaurants, hotels, industrial warehouses, etc. Homeowners are now starting to realize the benefit of having one or more of these heaters in their outdoor living areas.
Extend your enjoyment of the outdoors long after the summer has passed. Outdoor heaters provide a warm, comfortable environment for you and your guests to enjoy.
Infratech Outdoor Heater Installation in Dallas, TX
Dallas Landscape Lighting installs Infratech Outdoor Heaters
Does your patio get chilly? The Infratech Comfort Series heaters will warm your outdoor space safely and efficiently, allowing you enjoy those beautiful yet cool evenings with ease. Infratech has been the industry leader in indoor/outdoor space heating for more than 50 years. All of Infratech products are proudly made in the USA using high quality craftsmanship and materials. Infratech silent medium wave infrared heat does not emit harsh red light like some competitors short wave infrared heat. Infratech heaters do not emit harmful ultraviolet rays. The Comfort Series heaters come ready to be hard wired into your homes electrical system by a licensed professional. With several models to choose from with different power levels, almost any patio space can be heated properly. Infratech comfort heaters have three main control options: INF controls, duplex controls, and basic on / off controls. Infratech heaters are ideal for use in fine restaurants, hotels, and homes.
We have been purchasing and installing outdoor heaters by Infratech for years. They are high quality products that last! Having a professional electrical service like Dallas Landscape Lighting come out to install your heater ensures you have the correct set up to accommodate the heaters electrical requirements. We can add more power to your outdoor set up if need be.
Call Dallas Landscape Lighting and we can tell you how much specific units will cost to run based on manufacturer information.
Electric Space Heater Installation in Dallas
Most people choose to have professionals install their electric space heaters, so if you fall into that category, you're in luck: Dallas Landscape Lighting specializes in electric space heater installation. Our professionals will come to your home or business and conduct a thorough evaluation of your space, whether you operate a restaurant with a dining patio or you want to put an electric heater on your home's patio. Our team can help strategize the best possible locations so you get the most coverage from the units you choose; we'll even help you find a unit that matches your budget and needs.
Why Do You Need an Electric Space Heater Installed?
Generally, installing an electric space heater – at least one large enough to change the temperature in a space bigger than a small room – requires professional help. That's because as with any outdoor appliance, there are safety concerns (including concerns about placement and securing the unit so it's not in danger of tipping).
How Much Does it Cost to Install an Outdoor Space Heater?
The cost to install an outdoor space heater varies greatly. It depends on several factors, including:
The model and brand of the unit you choose
The unit's size
The location of your outdoor space heater
How many units you need
The type of installation (such as an in-ground unit, a wall-mounted unit, or something else)
Every project is different, which means the cost for outdoor space heater installation can vary greatly. Your best bet is to call Dallas Landscape Lighting and ask for a professional estimate; we'll be happy to provide you with a quote based on your needs.
Electric Heater Home Automation
From flush mount installation to voice-activated, hands-free remote control, American craftsmanship and custom design capabilities, our products and process deliver a superior experience for the design-build professionals, property owners and guests who choose us.
Interested in Smart home integration?
It's one of many innovative control options at your fingertips when you choose Infratech heaters.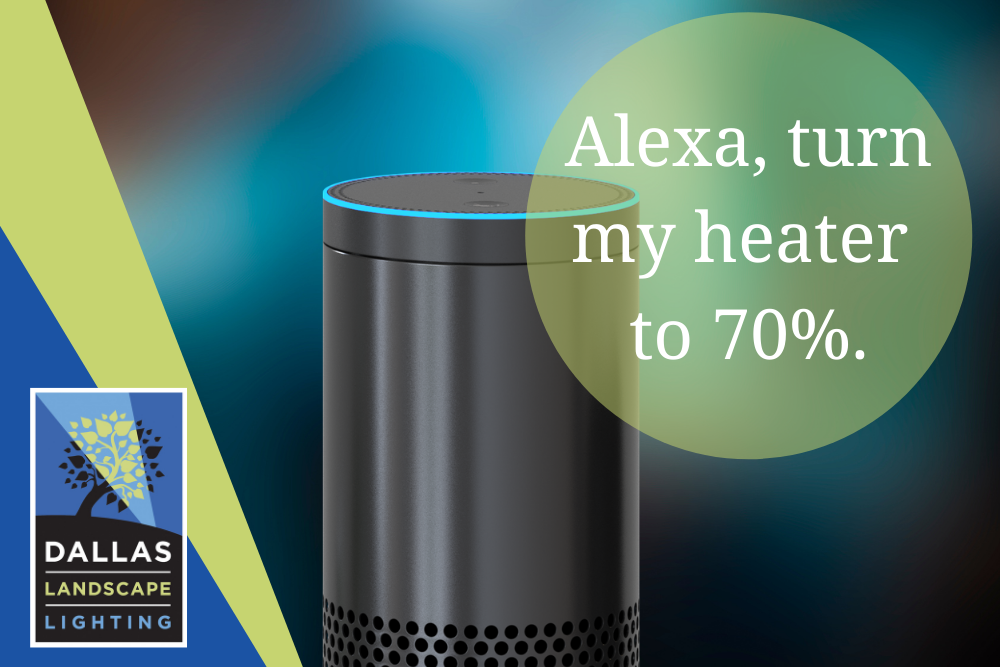 Choose between multiple systems including our Home Management System or Universal Control Package. Our commitment to leading-edge technology enables us to offer the widest array of controls in the industry.
Infratech's Universal Control is the only outdoor comfort heat control option offering hands-free voice activation from a smartphone or tablet via a Wi-Fi/Bluetooth® compatible device that can be purchased to gain this function.
It works with apps compatible with Alexa, Siri or the Google Home Assistant and smart home assistants like the Amazon Echo, Apple HomePod or Google Home Smart Speaker.
Our Home Management control option is designed to integrate seamlessly with popular smart home management systems, combining ambient warmth with convenient ease of use.
We make enabling technology accessible and easy.
Infratech heaters are built to deliver comfort and convenience – which is why they're compatible with the latest trends in home automation technology.
Do You Need Outdoor Space Heater Installation?
Dallas Landscape Lighting is your one-stop shop for outdoor space heaters and space heater installation. Our team of experts is ready to help you choose the right unit and map out a plan that lets you and your guests enjoy your outdoor space through every season, so call our office today.
Request A Free Consult And Quote
Dallas Landscape Lighting is your go-to electrician for outdoor patio and arbor heating solutions.  Request A Free Consultation today!