Outdoor Lighting in Richardson, TX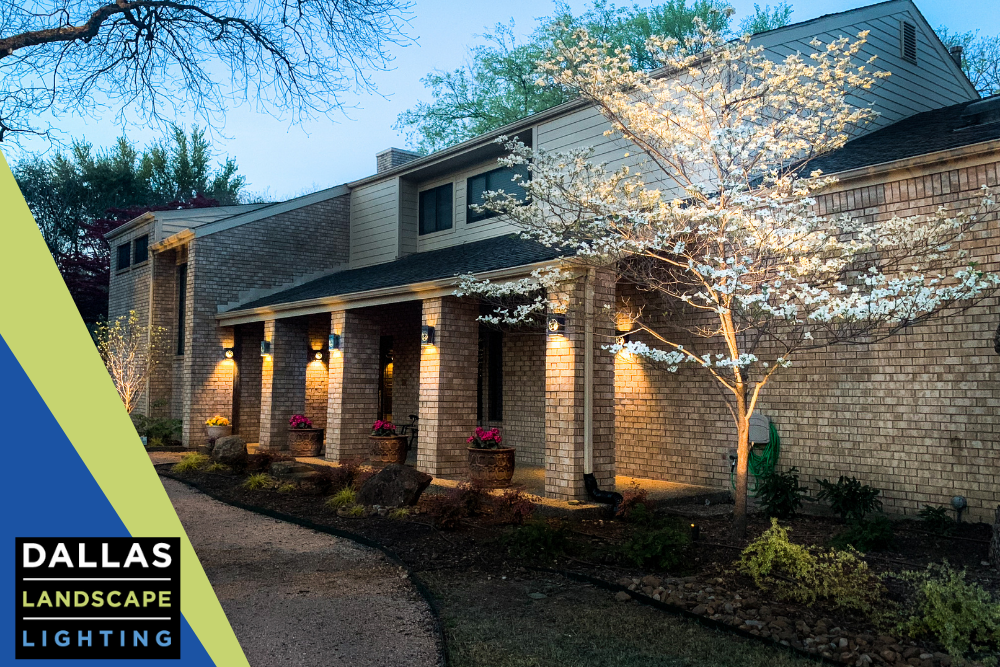 Dallas Landscape Lighting Installs Outdoor Lights, Safety Lighting, and more in Richardson, TX
Dallas Landscape Lighting is your one-stop shop for creating beautiful backyard spaces perfect for entertaining, interior and outdoor electrical work, generator installation and so much more. Our team of experts, led by a master electrician, can help you bring your vision to life.
Outdoor Lighting in Richardson, TX
The way your outdoor space looks is important, and that's why you can't trust just anyone. Whether you need help creating a place to entertain guests at your home or you're designing a perfect patio for a restaurant or another business, our team has the experience and the know-how to create the perfect ambiance.
Dallas Landscape Lighting provides a wide range of services in outdoor spaces, including:
Code violation repairs
Electrical wiring for outdoor appliances
Emergency lights and flood lights
Generator installation
Holiday and party light installation
Home sale inspection repairs
Installation of new electrical circuits on commercial machinery
Landscape lighting
Pool and spa wiring
Rewiring for fans
Rewiring for new lights
Standard electrical system maintenance
Code Violation Repairs
If your electrical wiring violates the most current electrical codes, don't worry – Dallas Landscape Lighting is headed by a master electrician, and we know our stuff. We know the NEC and can keep your space safe by making sure all the wiring complies with local, state and federal codes.
Electrical Wiring for Outdoor Appliances
When you have a fully appointed outdoor living space, you need to power it up. Our electrical services can help! Our team can wire your outdoor living space for kitchen appliances, TV sets, speakers and everything else you need. We can even add wiring for lights and outdoor fans, your home generator and more. Dallas Landscape Lighting can also help you create a plan for your space, so whether you're building from scratch or you just need new wiring to power your outdoor living space, we're your team.
Emergency Lights and Flood Lights in Richardson
Keep your property safe with emergency lights and flood lights – whether it's your house or your business. We'll help you set up the perfect plan to illuminate the areas around windows, doors and walkways, as well as at entrance and exit points of your property and anywhere else you believe you need security lighting. The right emergency lights and flood lights can provide your property with an extra layer of security, preventing people from loitering on or around your home or business. You can even choose motion-sensor light systems that only illuminate when someone comes near; these types of lights can be tremendously helpful in deterring crime.
Request A Free Consultation or Estimate Now!
Generator Installation
Generators provide you with backup power when you need it most, whether it's during a massive storm or a failure at the power grid. Our team at Dallas Landscape Lighting can help you choose the right type of generator for your needs. We work with all types of units, including standby (whole house) generators, portable generators and inverter generators. Our team is very familiar with each major brand, as well, so we can give you the guidance you need when you're choosing a generator for your home or business.   
Holiday and Party Light Installation in Richardson, Texas
Dallas Landscape Lighting can bring the celebratory spirit to your home or business with holiday and party light installation.
Our team can create an entire holiday light display in any space – that's one of our specialties in Richardson and the surrounding communities. We can plan the setup, provide all the lights and accessories you need, and then install them; we can even install on and off timers if you'd like them. Then, when the holidays are over, our team will uninstall the lights and pack them away. (And if we're using your lights, we can even provide you with a place to store them.)
We also specialize in weddings, galas, fundraisers and other formal affairs. We can set up party lights for your special events, including string light tree wrapping services, so you can create an unforgettable event for all your guests.
Home Sale Inspection Repairs
If you're selling your home, your buyers will most likely hire an inspector. If the inspector uncovers issues with your home's wiring, you'll have to fix it (especially if it doesn't meet the current electrical codes). We can evaluate your home's wiring and ensure that it's up to code – and you don't have to wait for an inspection. Dallas Landscape Lighting can do this for you before you even put your home on the market.
Learn more on why your home needs an electrical inspection before buying or selling.
Installation of New Electrical Circuits (Commercial Projects)
Dallas Landscape Lighting works with businesses all over Richardson and the surrounding communities to install new electrical circuits on commercial machinery. Our master electrician can evaluate your machinery, perform maintenance and make repairs as necessary to ensure that your business can keep moving forward.
Landscape Lighting in Richardson
Let Dallas Landscape Lighting transform your outdoor space into an idyllic paradise with landscape lighting. Our team can plan, develop and install a complete outdoor lighting system at your home or business. We'll focus on bringing your vision to life by highlighting your home's best features, provide you with path lighting, creating moonlighting or uplighting, or wrap your trees. We can even create beautiful outdoor patio and arbor lighting to give you a look that you – and your guests – will love.
Pool and Spa Wiring
The lights, heater and other electrical elements of your pool or spa need power – and Dallas Landscape Lighting can set it up. Our team is well-versed in pool and spa wiring so that you can enjoy your outdoor living space to the fullest.
Rewiring for Fans
Adding a ceiling fan to your indoor or outdoor living space brings up your home's aesthetic and can increase its value – and it makes things more comfortable, too. The problem for many people is that their homes aren't wired for ceiling fans, but that's where Dallas Landscape Lighting comes in. Our team can rewire your space so it's capable of handling a ceiling fan.
Rewiring for New Lights
Whether you're remodeling or just adding a new light fixture, we can make sure your existing wiring system is in good enough shape to handle it. We can have a look at your system and plan a new one, if necessary, so that you can install the lights you want to complete your space. Many people in Richardson choose Dallas Landscape Lighting to rewire for chandeliers, ceiling fans and more.
Standard Electrical System Maintenance
Dallas Landscape Lighting is run by a professional master electrician, and that means we can tackle all kinds of maintenance tasks in electrical systems. Our team can inspect and repair your wiring, ensure it's up to code, and perform maintenance to make sure it continues running properly (and safely).
Do You Need to Talk to the Richardson Lighting and Wiring Experts?
If you need landscape lighting, electrical wiring or anything similar, our team is here to help. Call our office today to tell us what you're looking for, whether it's a dazzling holiday display, wiring to your pool or spa, or bringing an investment property up to code. Our team will evaluate your project and give you a quote right away.