Dallas Landscape Lighting is your go-to Christmas Light Installation Company in Dallas!
Create a magical holiday light display by working with Dallas Landscape lighting for Christmas light installation in Dallas or any nearby city. Your home or business will be the most spectacular on the block – and you don't have to do a thing but call us to share your vision.
Christmas Light Installation in Dallas Fort Worth Metroplex
Whether you're decorating for a specific event or you need a seasonal light display that stays up from November through January, Dallas Landscape Lighting has you covered. Our team of Christmas light installation experts will:
Provide all necessary lights and supplies
Install on/off timers if you want them
Provide maintenance as necessary
Remove lights after the holiday season
We use energy efficient lights and premium products so you can be sure you're getting the best, whether you're outfitting your corporate headquarters for the holidays or decorating for the Christmas party of the year.
Dazzling Christmas Light Display Installation 
Our team of experts knows exactly how to place all the right lighting elements to create a breathtaking display, whether you're competing with your neighbors for the best-dressed house, you're decorating a clubhouse or community center in your neighborhood, or you're spreading holiday cheer at your commercial business. We can install Christmas and holiday lighting in and around:
Residential homes
Condominium complexes and townhome developments
Community spaces, such as around swimming pools andin clubhouses
Shopping malls and strip malls
Retail stores
Restaurants
Golf courses and country clubs
Office buildings
Lobbies
Downtown areas and town squares
Any other location that needs a dazzling Christmas light display
Book A Free Consultation!
Dallas Landscape Lighting is your go-to electrician / electrical services company in Dallas! Request A Free Consultation today!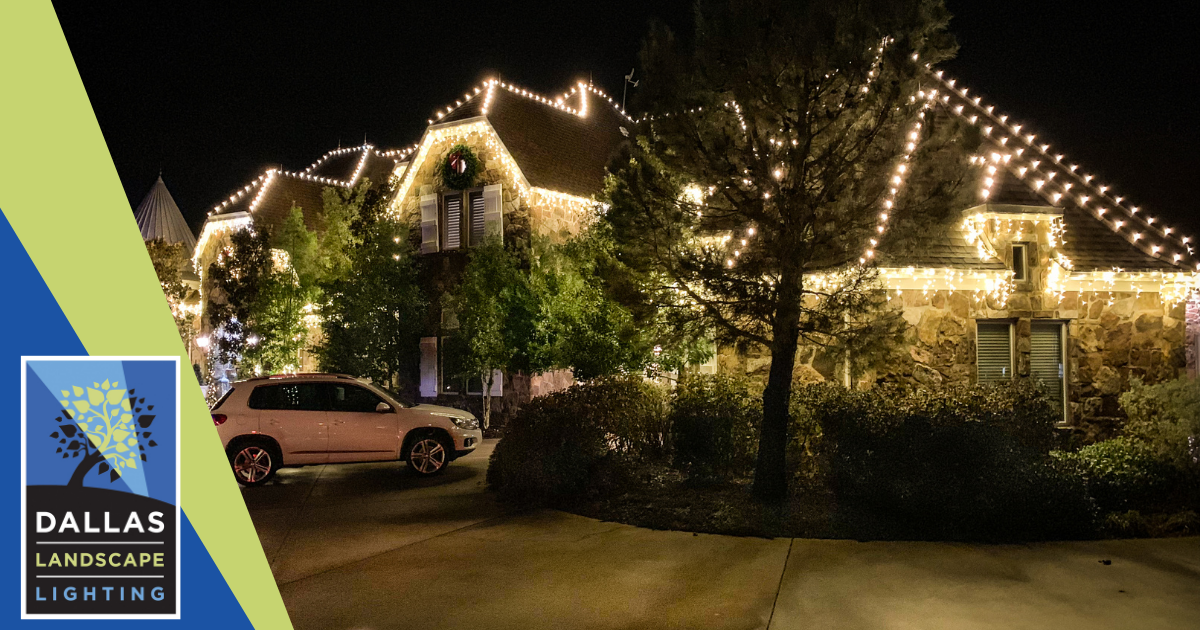 Residential Christmas Light Installation 
Your home can be the most magical one on the block with professional residential Christmas light installation from Dallas Landscape Lighting. We work in neighborhoods all over Dallas and the surrounding cities during the holidays so you can relax – we'll scale the rooftops and treetops for you, leaving you free to handle more important things (like holiday shopping).
Whether your goal is simple elegance or over-the-top holiday cheer, our team can bring your vision to life. (We do outdoor light installation for the rest of the year, too.)
Commercial Christmas Light Installation 
Make your business sparkle with holiday magic by choosing Dallas Landscape Lighting for your Christmas light installation this year. Our team will evaluate your entire site – from the sidewalks and common areas to the rooftop – to ensure we create the perfect plan for your lighting scheme.
Whether you choose simple string lights or more complex designs that people can enjoy from blocks away, we'll create an exceptional display you and your customers will love.
Local Government and Community Holiday Light Installation 
Town squares, city streets and public spaces need plenty of Christmas cheer, and Dallas Landscape Lighting can provide it. Our team can hang string lights, set up beautiful displays and illuminate light posts for the holidays. We light community holiday trees, as well.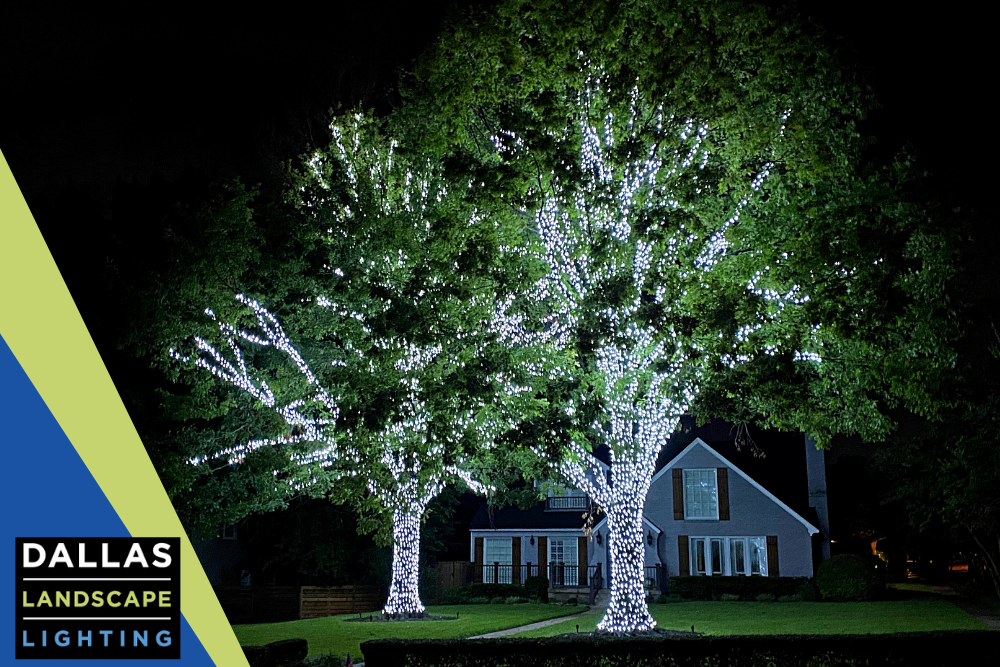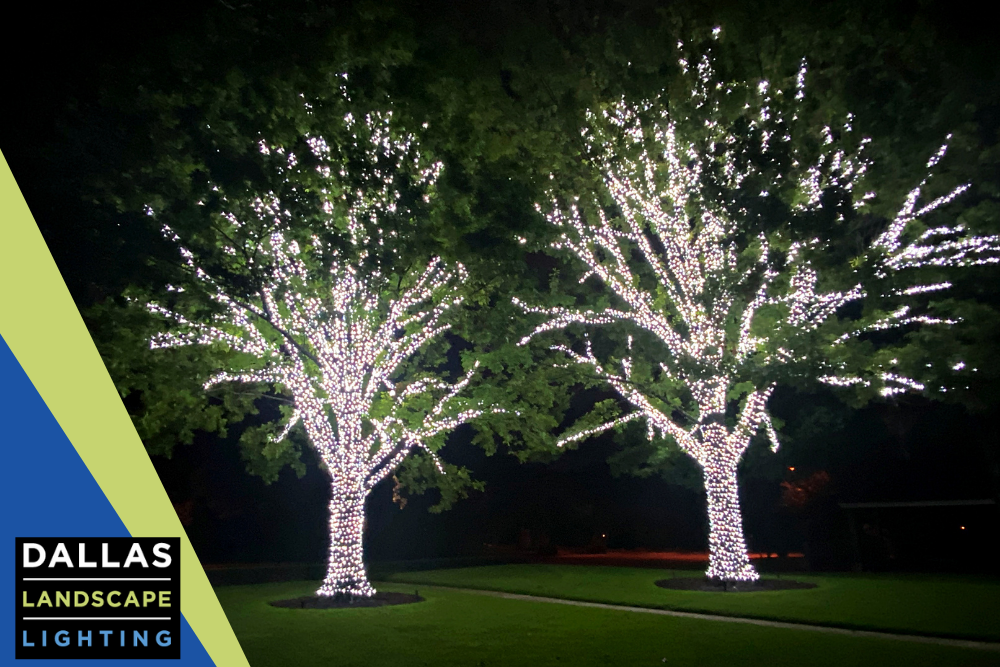 Christmas Light Installation FAQ
Check out our most frequently asked Christmas light installation questions here, and if you don't see what you're looking for, please feel free to call our office and ask. We'll be happy to provide you with the answers you need, evaluate your situation, and give you a custom quote.
What is the Average Cost to Have Christmas Lights Installed? 
The cost to have Christmas lights installed varies based on the size of the project, the number of lights used, and the way the installation is structured. For example, it costs more to outfit an entire shopping mall with holiday lights than it does to design and install a display on one residential home.
Our team will be happy to provide you with a custom quote for your Christmas light installation project – just call our office today and let us know what you're looking for and we can set up a personalized consultation.
How Do Professionals Install Christmas Lights?
Generally, professionals install Christmas lights by following a specific system. First, site evaluation is critical. The experts will measure the exact area, determine how many lights are necessary, and map out a plan for the finished display. Then the installation begins. The number of lights used per foot depends on the client's desired outcome; some people prefer a dazzlingly bright light display, while others prefer to space out bulbs and create a simple look.
How to Determine How Many Christmas Lights You Need Before Installation
Your Christmas light installation experts can determine how many holiday lights you need for a specific project. For a simple light setup on a residential home, you should plan for 10 to 12 feet of string lights for every awning that needs lights.
In commercial locations or more complex projects, the number of lights you need will vary based on the size of the building, the display's characteristics and several other factors. The experts at Dallas Landscape Lighting can tell you exactly how many lights you need for your project.
How Long Does it Take to Have Professionals Install Your Christmas Lights? 
Depending on the size of your holiday light display, the professionals at Dallas Landscape Lighting may be able to complete your Christmas light installation project within a matter of hours. However, for large buildings, community areas and outdoor spaces, it can take several hours – or even a few days, for particularly large spaces – to complete the entire display.
Can You Store Christmas Lights for Our Company?
Dallas Landscape Lighting provides Christmas light storage. Just ask us about it when you call for your custom Christmas light installation quote and we'll be happy to explain where and how we'll store your lights, as well as provide you with a quote for storage.
Christmas Light Removal 
After the holiday, our team will remove all the Christmas lights we installed – and we'll even store them for you if you'd like. Generally, taking down Christmas lights is a faster process than putting them up is, but the length of time it takes depends on the number of lights and the intensity of the display. You simply set the date for removal and we'll be there, ready to work.
Christmas Party and Other Event Lighting 
Our team provides holiday and event lighting for any occasion. We can help create a breathtaking light display for weddings, engagement parties, family get-togethers and special dinner parties, as well as seasonal light displays for other holidays and special occasions. We also install permanent outdoor lighting including safety and security lighting, moonlighting and tree lighting, and patio and arbor lighting. You can view our past outdoor lighting projects here.
Do You Need Help With Christmas Light Installation? 
Dallas Landscape Lighting can help you with Christmas light installation for your home, business or community location. Our team of experts can plan and install the entire project, leaving you free to focus on other things around the holidays.
Book A Free Consultation!
When you're ready for a personalized quote on your holiday light installation project, call our office – you'll talk to an experienced professional who can give you the answers you need.