Outdoor Heater Installed by Dallas Landscape Lighting
In Dallas outdoor heater installation is a MUST so you can enjoy the outdoors all winter long!
Outdoor heaters have been popular up north for a long time – but Dallas outdoor heater installation is becoming very popular among home & business owners. Not long ago, they were primarily used by businesses, restaurants, hotels, industrial warehouses, etc. Homeowners are now starting to realize the benefit of having one or more of these heaters in their outdoor living areas.
Extend your enjoyment of the outdoors long after the summer has passed. Outdoor heaters provide a warm, comfortable environment for you and your guests to enjoy.
Infratech Outdoor Heater Installation in Dallas, TX

Dallas Landscape Lighting installs Infratech Outdoor Heaters
Does your patio get chilly? The Infratech Comfort Series heaters will warm your outdoor space safely and efficiently, allowing you enjoy those beautiful yet cool evenings with ease. Infratech has been the industry leader in indoor/outdoor space heating for more than 50 years. All of Infratech products are proudly made in the USA using high quality craftsmanship and materials. Infratech silent medium wave infrared heat does not emit harsh red light like some competitors short wave infrared heat. Infratech heaters do not emit harmful ultraviolet rays. The Comfort Series heaters come ready to be hard wired into your homes electrical system by a licensed professional. With several models to choose from with different power levels, almost any patio space can be heated properly. Infratech comfort heaters have three main control options: INF controls, duplex controls, and basic on / off controls. Infratech heaters are ideal for use in fine restaurants, hotels, and homes.
We have been purchasing and installing outdoor heaters by Infratech for years. They are high quality products that last! Having a professional electrical service like Dallas Landscape Lighting come out to install your heater ensures you have the correct set up to accommodate the heaters electrical requirements. We can add more power to your outdoor set up if need be.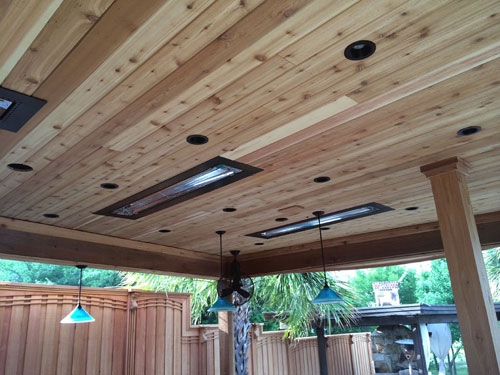 Follow Dallas Landscape Lighting's board Outdoor Heaters by Dallas Landscape Lighting on Pinterest.