Highland Park Outdoor Lighting Installation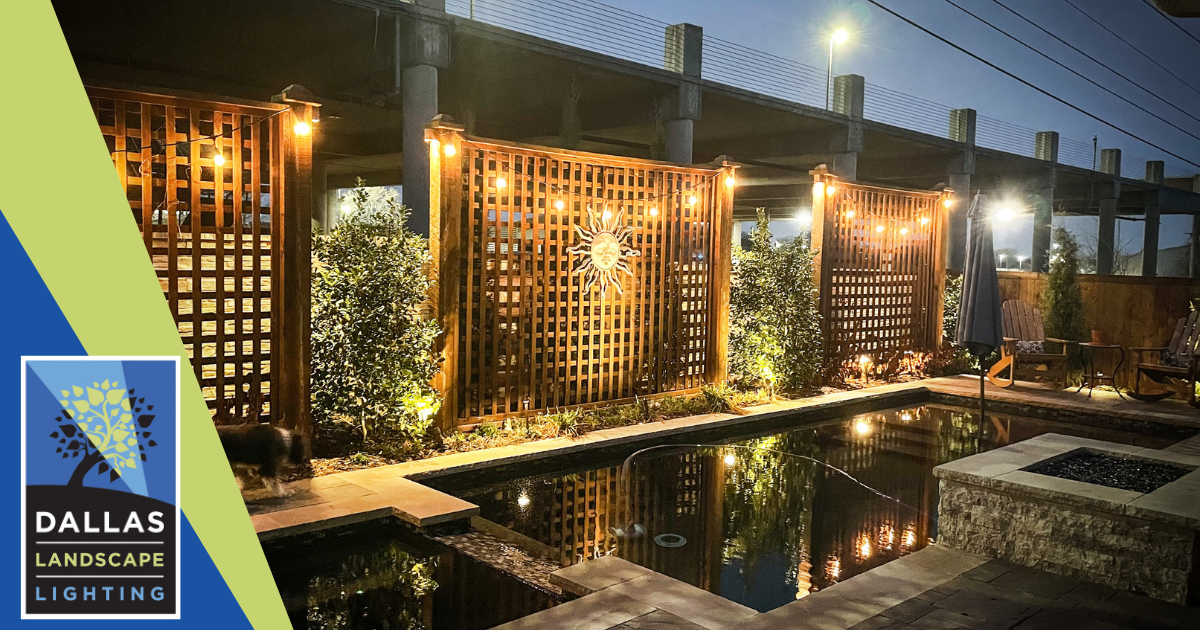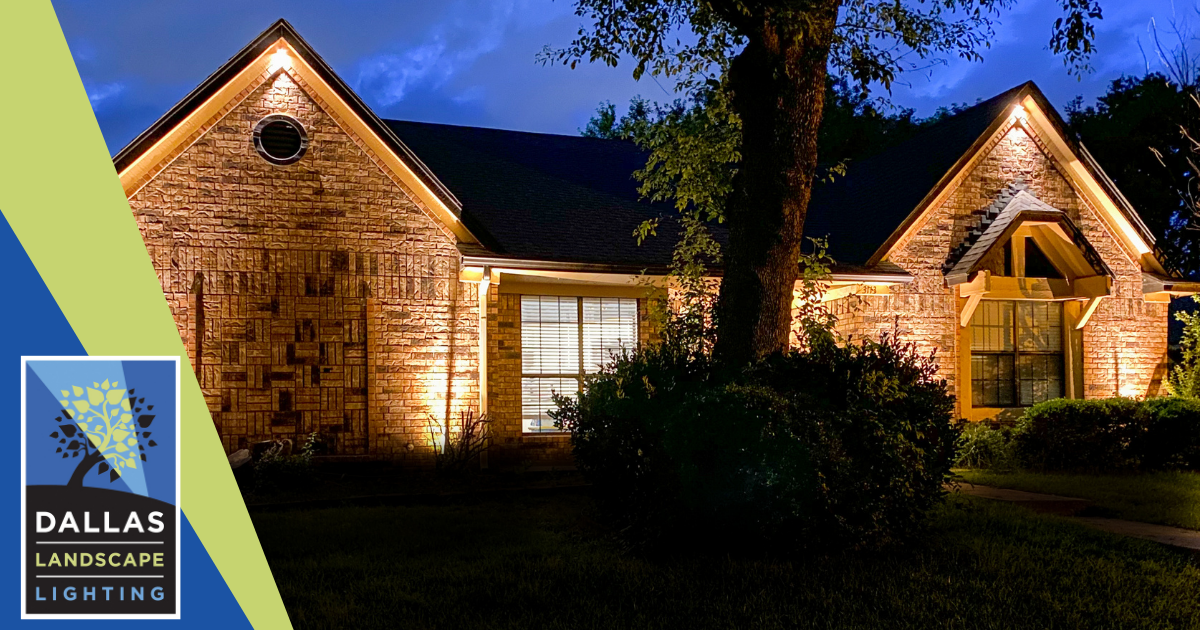 Dallas Landscape Lighting Installs Outdoor Lights in Highland Park and University Park
Installing outdoor lighting may be the best choice you make for your home. In addition to aesthetics, outdoor lights can provide an extra measure of safety and security in your space. Highland Park's outdoor lighting experts, Dallas Landscape Lighting, can help ensure your home and property are well-lit and look amazing, all within your budget.
Highland Park Outdoor Lighting Specialists 
Dallas Landscape Lighting can bring your property to life with unmatched landscape lighting, pathway lighting and safety lights. Our team can set up dimmers, specific security lights, automatic timers, spotlights and several other lighting solutions. All we need from you is for you to explain your vision; then, our experts will take over and implement your plan.
Pathway Lighting by Highland Park's Outdoor Lighting Experts 
Pathway lighting can keep your sidewalks, driveway, walking paths and other surfaces easy to see (and as a result, much safer). We can install a complete outdoor lighting system in your Highland Park home or business that illuminates the ground so your family, friends and other guests can walk confidently – and safely.
Explore our pathway lighting photo gallery here.
Highland Park Outdoor Lighting: Safety and Security Light Installation
In Highland Park, outdoor lighting is not only important because it enhances the beauty of the many prestigious homes. 
It's also a proven crime deterrent. In the Park Cities area of Dallas, it's imperative that homeowners consider lighting as a safety measure. Well-lit property is much less attractive to thieves than dimly lit or dark properties are.
In fact, having a well-lit property may have saved one of our clients from a robbery. The police told her that her home was spared from being broken into and burglarized due to her tree lighting, but her neighbors weren't so lucky.
Safety lighting helps ensure that you always know where you're stepping, minimizing your risk for a fall; security lighting helps deter crime and keeps your property illuminated so that you can see who's around at all times.
Our team can install safety and security lights on walls, around windows, entryways and doors, and pathways. We can also install flood lights and motion lights to provide you with an extra measure of security. 
Using different types of outdoor light fixtures, Dallas Landscape Lighting will design a system that accentuates points of architectural interest on your home (such as archways or gables) as well as one that provides a safe, well-lit environment.
Note: Take your home security to the next level with our smart home security systems.
Request A Free Consultation or Estimate Now!
Dimmers Installed by Highland Park Outdoor Lighting Specialists
Maintain control over your light levels with a dimmer for your outdoor lighting. We can create a perfectly customized solution for your outdoor living space, whether you're outfitting a gazebo with built-in lights or you're using string lights to illuminate your backyard for barbecues, pool parties and other events.
Automatic Timers for Landscape Lights
Dallas Landscape Lighting can build in automatic timers for your landscape lights so you never have to worry about flipping the switch again. That way, you can set the ideal times for your lights to go on and off (and even program special times for when you're out of town).
You can use a timer on specific lights or on all your outdoor lights, which can help promote security and contribute to your home or business's aesthetics.
Spotlights Installed by Highland Park's Premier Outdoor Lighting Professionals
Spotlights are ideal for highlighting your building's best features, flag displays, trees, water features and other elements. Our team can create a complete lighting strategy for your home or business, designing each piece light-by-light, so that you get a look you'll love.
Tree Lighting 
You can highlight your most beautiful trees with uplighting or create a gentle, moonlit glow in your yard all night with downlighting – or you can do both. Our expert lighting designers will help you focus on your yard's best features to create a custom lighting plan that creates the ideal ambiance in your space.
Why is Landscape Lighting Important?
Landscape lighting provides several important benefits to your home – not the least of which is aesthetics. You simply can't compare the beauty that well-placed lighting adds to landscaping, and that's true whether you're lighting your outdoor living space at home or the area around your commercial building.
It also provides security because a well-lit area isn't exactly the best place to commit a crime; the likelihood of being seen (and caught) is much higher when an area is lighted than it is when it's completely dark. A well-lit landscape deters intruders, prospective criminals, and people who don't belong on your property by eliminating dark areas that would ordinarily conceal them.
Does Landscape Lighting Add Value? 
Generally speaking, landscape lighting adds a significant amount of value to a property. In fact, some studies say that a lighting system can increase a property's value by up to 20 percent. Right now, there's a huge trend toward outdoor living space, and prospective buyers love seeing a home with plenty of usable space outside.
Landscape lighting makes the yard usable well after dark, and it makes the home more attractive (and less likely to face criminal intrusion) than a home that only has a porch light. Landscape lighting can absolutely add value to your property.
What Kind of Outdoor Lighting is Best?
Different properties benefit from different types of lights. For example, a commercial business may look best with uplighting on large trees, and it may need motion-sensing lights near back entrances. A residential home will have different needs, depending on whether the lights are used for aesthetics, security, or a mix of both.
Are LED Landscape Lights Worth It? 
LED lights – those made with light-emitting diodes, or LEDs – are generally worth the investment.
Many people choose LEDs over other types of lights because they're completely recyclable, free from chemicals, do not emit UV rays, and more efficient; they cost less to run than standard lights do, and they last longer, as well. In fact, one LED bulb can do the work of roughly 25 incandescent light bulbs over its lifetime.
An LED light can produce light up to 90 percent more efficiently than incandescent light bulbs can, which means you'll save money on utilities by using them, as well. However, you don't have to choose LEDs if you don't want them. Your landscape lighting professional will talk to you about your options and help formulate a plan that works for you.
Request A Free Consultation or Estimate Now!
How Bright Should Outdoor Lights Be? 
Every location is different, so how bright your outdoor lights should be is up to you. You and your landscape lighting expert will work together to determine how bright you need your lights to be.
If you're using motion-detecting security lights, you'll naturally want them to be brighter than you'd want the lights in your gazebo to be; likewise, you probably don't want bright, white floodlights illuminating your garden at night, but you do want them at the gated entrance to your driveway.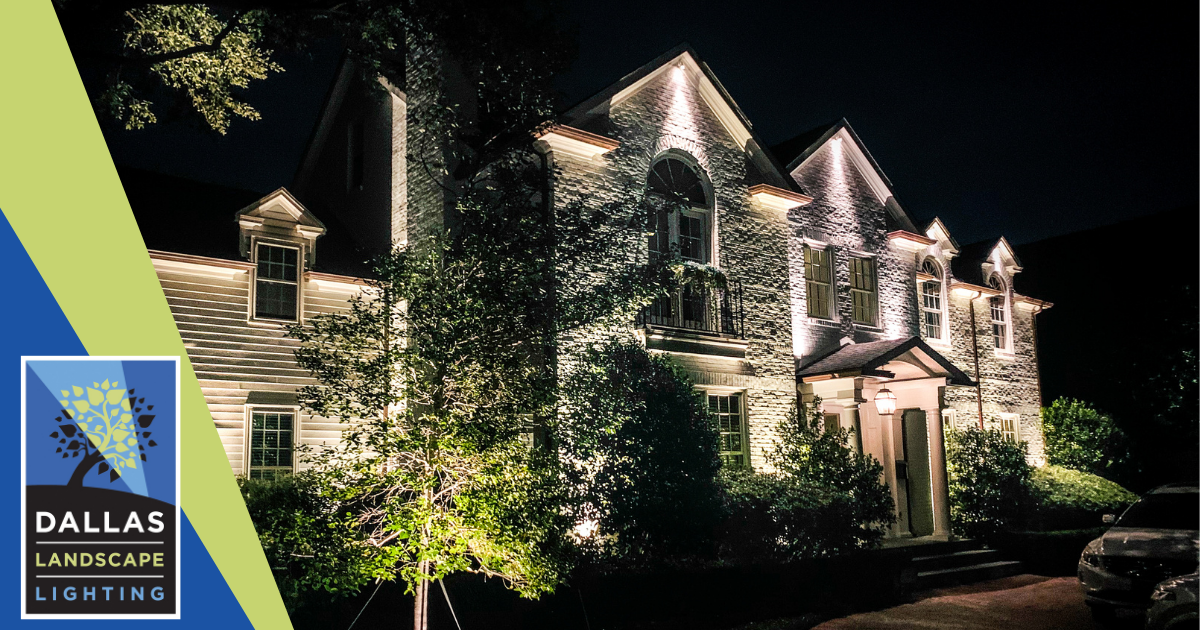 As a general rule:
Floodlights usually range between 700 and 1,300 lumens
Motion-sensor lights should range from 300 to 700 lumens
Pond or pool lights should be between 200 and 400 lumens
Path lighting should range between 100 and 200 lumens
Landscape lights typically range between 50 and 300 lumens
Hardscape lights mounted on a wall are typically between 50 and 185 lumens
Step lights can range between 12 and 100 lumens
Again, every landscape is different, and your needs will dictate how bright your outdoor lights should be.
Where Do You Put Uplighting Around Highland Park Homes? 
Uplighting is typically used for accenting certain features around a home or business. For example, you may choose to uplight a flag pole, certain windows in your home, shrubs and trees, water features, and other design features that deserve extra attention when the sun goes down.
A Word on Outdoor Lighting in Highland Park 
Looking for a reputable company to design and install a jaw-dropping landscape lighting system at your home or office? Dallas Landscape Lighting's electricians have been installing outdoor lighting in Highland Park and University Park for almost 15 years.
In Highland Park, outdoor lighting is part of what sets the neighborhood apart from other neighborhoods in Dallas. The lush landscaping, mature trees, luxurious outdoor living spaces, not to mention the gorgeous older and newer homes boasting interesting architecture… this sort of eye candy deserves to be highlighted even after the sun goes down.
Our crews don't just light things up, they also wire outdoor kitchens, sell and install outdoor fans, heaters, outdoor speakers, patio TVs, generators, fire pits, fire bowls, and all types of outdoor electrical items!
Seems like everyone these days wants an #EPICBackyard. As a result, more and more homeowners have opted to build arbors, trick out patios and take their poolside entertainment to the next level. You need a professional, licensed electrician to make those outdoor entertaining spaces comfortable as well as entertaining – so call Dallas Landscape Lighting!
So, as you can see – in Highland Park outdoor lighting isn't the only thing Dallas Landscape Lighting does! We provide all sorts of electrical services to homeowners and business owners daily in HP, University Park, Park Cities, Uptown, Downtown, Kessler Park, Preston Hollow (and all areas of Dallas County.)
From pools and cabanas to outdoor kitchens and tall trees, if you need it lit, Dallas Landscape Lighting can do it! We have installed all types of outside lighting in Highland Park and University Park over the years. Contact our office today or call us at 214-206-3893 to set up a free estimate!
Book A Free Consultation!
Dallas Landscape Lighting is your go-to lighting company in Highland Park! Request A Free Consultation today!