University Park Outdoor Lighting Installation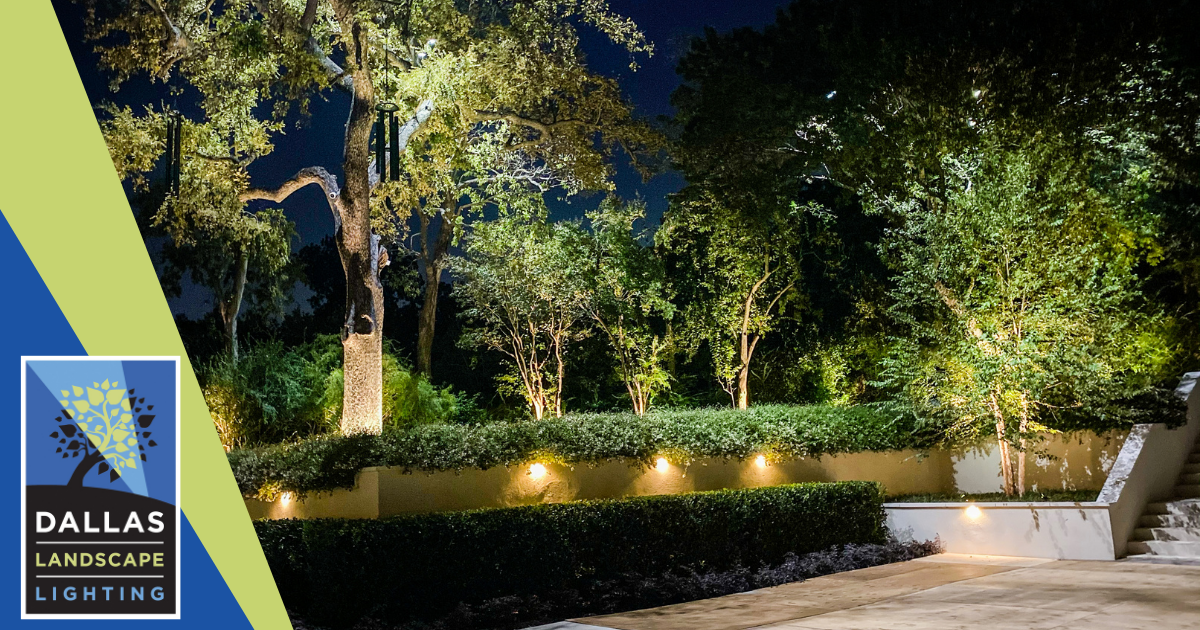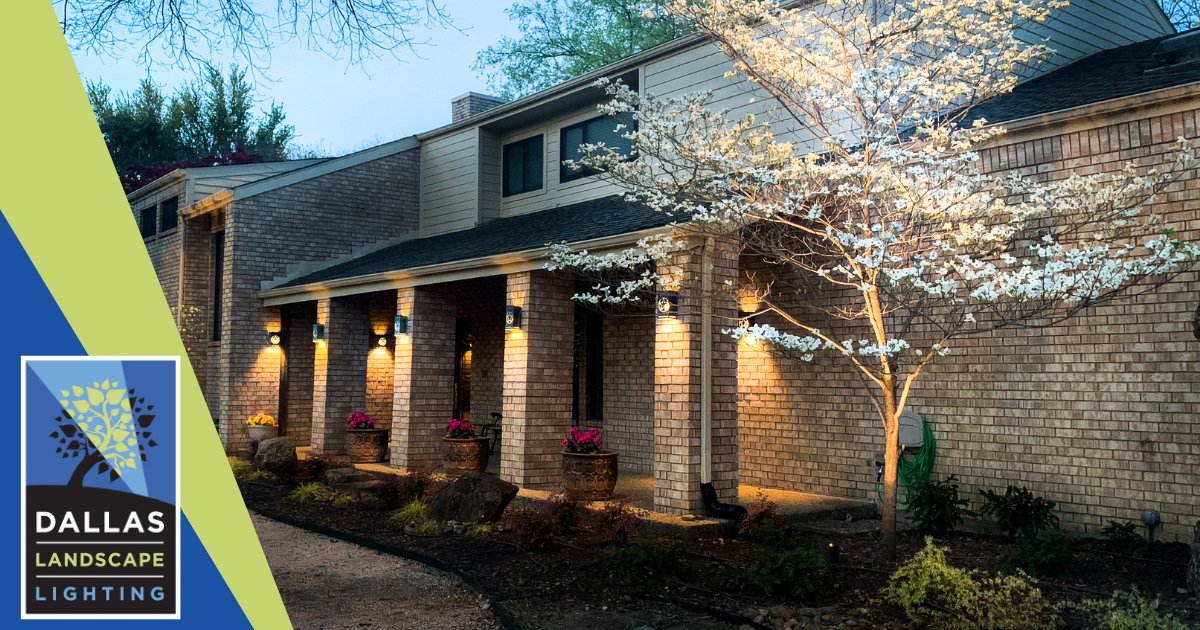 When you're looking for an electrician in University Park, TX, Dallas Landscape Lighting is your one-stop shop – our team of experts can help you with anything from correcting electrical code violations to historical building repairs and upgrades.
Need an Electrician in University Park, Texas? 
Dallas Landscape Lighting is run by a master electrician whose team excels at indoor and outdoor electrical work, so whether you need an entire outdoor lighting scheme installed or you have to make repairs to sell your home, we're here for you.
Services Electricians Perform in University Park 
These are a small number of the services we provide to our clients in University Park:
Christmas light installation
Code violation repairs
Electrical upgrades
Electrical wiring for outdoor kitchens
Emergency light and flood light installation
Generator installation
Historical building restoration
Home sale inspection repairs
Installation and repair of electric vehicle charging systems
Installation of lighting fixtures, fittings and fans
Installation of new electrical circuits on commercial machinery
Maintenance and repair of existing electrical systems
Outdoor and landscape lighting
Outdoor TV and speaker installation
Power to outdoor appliances, pools and spas
Rewiring for chandeliers and other light fixtures
Christmas Light Installation in University Park 
Dallas Landscape Lighting supplies and installs holiday lighting at homes and businesses all over Dallas and the surrounding communities.
Simply tell us about your vision and we can make it happen; we even provide holiday light storage if that's something you need. Our Christmas light installation team works quickly and efficiently, and when the season's over, we'll even take everything down for you.
Code Violation Repairs
Electrical code violations can spell serious trouble for your home or business. The National Electric Code, or NEC, was designed to make Americans safer, so if your electrical work isn't up to the right standards, it could be dangerous for you to continue using electricity in the building. Dallas Landscape Lighting's team can help bring your home or business's electrical system up to code.
Electrical Upgrades
Updating or upgrading your home or business's electrical system, even if it's not in violation of electrical codes, is sometimes a good idea. For example, if you're selling your home, saying it has all-new wiring can be a selling point. Additionally, if your home's wiring is outdated, you may wish to update it before it becomes a problem.
Request A Free Consultation or Estimate Now!
Emergency Light and Flood Light Installation
Putting emergency lights outside your home is a great security measure – and it's one that may require a professional. Dallas Landscape Lighting can map out and plan an entire lighting system for the area around your home or business, as well as install it from start to finish.
Electrical Wiring for Outdoor Kitchens in University Park
Operating your outdoor kitchen requires electricity. When it's time to set up the perfect place for entertaining or enjoying the sweet Texas breeze with your closest friends and family, Dallas Landscape Lighting can wire the entire thing for you so you can power your outdoor living space all year.
Generator Installation
Generators can provide your home or business with backup power during an outage, increase resale value, and keep everything running smoothly for you in an emergency. Dallas Landscape Lighting's experts can help you determine which kind of generator is right for you – and install it so it's ready when you need it.
Historical Building Restoration
Restoring a historical building is a big job, and when you're looking for an electrician in University Park, you need to work with a master electrician who knows what he's doing. That way, you can be sure to preserve the home's historical value and get the desired outcome.
Home Sale Inspection Repairs
If you're selling your home and your buyer has hired a home inspector who discovered there are electrical problems, Dallas Landscape Lighting can fix them. We'll even provide you with a receipt that you can share with your buyer to prove that the repairs have been completed.
Installation and Repair of Electric Vehicle Charging Systems
If you have an electric vehicle, you need a place to charge it – and Dallas Landscape Lighting can help. Our team can install a charging station in your home or in your commercial location, and we work quickly and efficiently to get the job done.
Installation of Lighting Fixtures and Fans
Whether you need light fixtures and fans indoors or out, Dallas Landscape Lighting can hook everything up for you. Our team will even help you choose the right fixtures or fans (or both) so you can create a look you'll love. 
Installation of New Electrical Circuits on Commercial Machinery
We can help you keep your business running smoothly by installing new electrical circuits on your commercial machinery. Dallas Landscape Lighting works with businesses all over University Park and elsewhere in Dallas.
Maintenance and Repair of Existing Electrical Systems
Sometimes things go haywire (literally), and our team is there to put everything back into place when they do. Whether you have a short or something's improperly wired, we can provide maintenance and repair of existing electrical systems. We can also help in an emergency, so please don't hesitate to call our office when something goes wrong.
Outdoor and Landscape Lighting
Dallas Landscape Lighting can set up an entire outdoor lighting scheme for you. Tell us your vision and we'll map everything out, help you select the right types of lighting, and install fixtures where they need to be. Whether you want flood lights and security lights for additional home security, you're lighting your garden for aesthetic reasons, or you're installing path lighting from the sidewalk to your front door, we have you covered.
Outdoor TV and Speaker Installation
Adding an outdoor television and speakers to your living space is easy when Dallas Landscape Lighting handles your electrical wiring. Whether you're outfitting an outdoor kitchen and dining space or you're setting up an entertainment center near your pool or spa, we can do it all.
Power to Outdoor Appliances, Pools and Spas
Our experts can send power to all your outdoor appliances, your pool and your spa. Whether you need power to run a filter and lights or to bubble up your hot tub, we'll make sure that everything has the power it needs to enhance your outdoor living space.
Rewiring for Chandeliers and Other Light Fixtures
When you upgrade your home, the existing wiring may not be able to handle new light fixtures (particularly chandeliers). Our team of experts can rewire your space so it can handle chandeliers and other light fixtures, as well as fans, so you can create the perfect space inside your home. We also work in restaurants, commercial buildings and offices.
Smoke Detector Wiring
We can hard-wire your smoke detectors, whether they're in your residential home or in a commercial building. Our team will connect them directly to your home's electrical system for an additional layer of fire safety so you only have to worry about using batteries as a backup.
Do You Need an Electrician in University Park or Elsewhere in Dallas?
Dallas Landscape Lighting can help you with wiring your smoke detectors, powering outdoor appliances, rewiring your home or business, and so much more. Call our office today to schedule your consultation with a University Park electrician; we'll be happy to evaluate your project and provide you with a quote.
Book A Free Consultation!
Dallas Landscape Lighting is your go-to lighting company in University Park! Request A Free Consultation today!